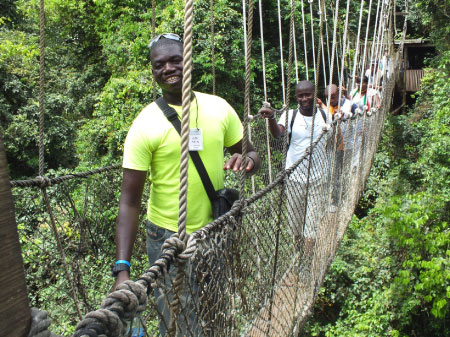 Welcome to yet another edition of Agricultural Spectrum, your weekly that brings into spotlight agricultural developments, achievements and challenges confronting the sector as well as find solution to them.
In our today's edition, the Agricultural Spectrum columnist explores the Kakum National Park, one of  Africa' s biggest existing wildlife  parks located in the Central Region of Ghana during a recent visit as part of his two weeks training media's role in conflict transformation and peace building in West Africa.
Managed by the Ghana Heritage Conservation Trust (GHCT) of the wildlife commission of Ghana, the forest is located at the Kakum Conservation Area (KCA), which consists of the Kakum National Park and the nearby Assin Attandaso Resource Reserve.
The Kakum National Park, according to the park officials, is an old national park established all in 1932, and used for the last fifty years for extracting timber.
Located about 20 kilometers North of Cape Coast, a city on the southern coastline, the Kakum Nation Park covers an area of 350 square kilometers of Ghana's rapidly dwindling rainforest.
The park provides information about the unique relationship between people and nature in the region and fulfills a variety of functions, with 219 elephants in the park.
The park is home to many endangered forest elephants, bongo, yellow-backed duiker and diana monkeys, about 550 species of butterflies, 250 species of birds and about 100 species of mammal, reptile and amphibian species.
According to the park's community tour guide, during an interview with Agricultural Spectrum anchorman, they have over 600 species of butterflies, 40 interesting species of trees, all used for economic, social, cultural and medicinal purposes.
During our visit, we encountered among others, trees, the strangling fig, which embraces its host tree to death.
Christian Oceng Hmaal, the community tour guide explained that many of the trees provide ingredients used for treating diseases such as leprosy, small pox, tumors and problems such as upset stomach and toothaches.
The interesting aspect of the Kakum National Park is the canopy walkway designed and constructed under the guidance of Conservation International's (CI) Ghana Program.
During the canopy, the viewer walks on a walkway built high along tree lines and views nature from a high distance.
The canopy walkway consists of 7 bridges over a length of 330m and was originally built by a couple of Canadian adventurers. The walkway reaches a height of 40m above the forest floor and the rope bridges do swing.
The tour guide said each of the bridges have planks on the bottom to walk and are secured by wires and netting. 
He said the park is made of undisturbed virgin rain forest with a vegetation type of moist evergreen with tall hardwood trees up 65 meters in height.
Read Other Articles In Article (Archive)