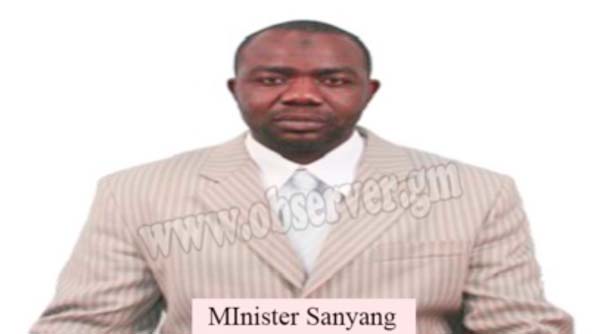 Ismaila Sanyang, Minister of Agriculture, has on behalf of President Jammeh applauded Burr Promotion for its initiative, support towards Gambian youth and for successfully staging a grand wrestling completion last weekend.
Burr Wrestling Promotion under the leadership of Omar Burr Touray on 12 December 2015 held the semi-final and final of its grand wrestling event named after President Jammeh, at the Wellingara football field.
The competition brought together twenty-four wrestlers from different clubs who competed in different categories such as 66kg, 76kg, 86kg, and 100kg.
Thousands of wrestling fans, spectators, invited guests and stakeholders witnessed the Saturday finals and described the event as one of the best organised wrestling events in recent times and commended the organizers for "a job well done".
Hon. Sanyang on behalf of President Jammeh also presented D100,000 to Burr Promotion and as well encouraged the promoter to continue the good work.
Saihou Kujabi, managing director of AMRC, and Alh. Abdoulie Bojang alias Ablo, Desk Officer for wrestling at National Sports Council, both made similar remarks and promised to support Burr Promotion in their next events.
A total of D200,000 was distributed to sixteen wrestling champions.
In the 66kg category, Top 5 of Club Jefjel came out first and was rewarded with a cash prize of seven thousand dalasi. Boy London of Club Ampaya took 2nd and received D4,000.
Robbel of Club Fekemasi boleh finished 3rd and got D2,000 while Bulldoff of Kololi Mbollo took 4th and went home with D1,000.
In the 76kg category, Bebe Hareng of Club Jeffjel went home with a cash prize of D10,000 as winner. Taphatine of Club Marra finished 2nd and received D7000. Purrmu lerr of Barra took 3rd and went home with D5,000 while Balla Jr of Balla Family finished 4th and was given a prize of D3,000.
Leket of Club Barra came out on top in the 86kg category and therefore won himself a cash prize of D20,000. Abusarr of Jeshwang took 2nd and received D10,000. Third-place prize went to Musa Yande of Club Konkoba, who received D5,000. Errnees 2 of Club Ampaya took 4th and got D3,000.
In the 100kg category, Lassperr of Club Bakau took the first position and received the biggest prize of D40,000.
Flex of Club Roots finished second and went home with D20,000. Third place was occupied by Kojaro of Serrekunda Gomsarew who went home with D10,000, while Deflen of Club Konkoba took 4th and received D5,000.
For his part, wrestling promoter Omar Burr Touray thanked Almighty Allah for helping him to successfully organise the event and commended President Jammeh for his valuable support.
Mr Touray said he would remain committed to supporting the youth for them to desist from embarking on illegal migration.
Concluding, he thanked all those who supported him in making the event a success.
Read Other Articles In Article (Archive)