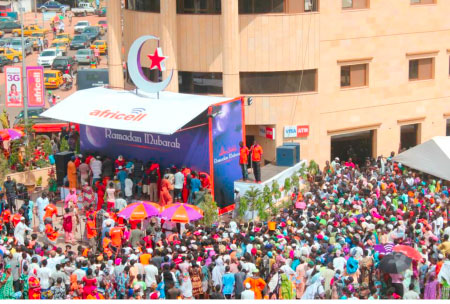 Africell, the leading GSM operator in The Gambia, on Friday 19th July embarked on a free mega rice distribution campaign to the Gambian population, which took place at its head office along Kairaba Avenue.
Over ten thousand people from all walks of life converged at the Aricell head office to collect a 4 kilo gram bag of clean rice, facilitated by Africell staff.
Speaking to journalists during the distribution process, Musa Sise media consultant for Africell, said Africell has always had the Gambian public at heart, and this event is a continuing manifestation of the company's stance in sharing with the general public.
He said this was in line with Africell's continuing support to the Gambian populace, and a part of its corporate social responsibility which could be manifested best during the holy month of Ramadan.
According to him, last year during the Ramadan,, Africell embarked on a country-wide distribution of rice and sugar, and has also provided iftars in all the major mosques across the country.
Musa Sise further stated that Africell was the first GSM operator in The Gambia to give a million dalasis to Gambians, a dream house and took several Gambians to perform the pilgrimage in Mecca.
Isatou Sinjankan, a beneficiary of Africell's 4 kg of rice, expressed appreciation of the gesture, noting that Africell has done a lot for the Gambian populace.
According to her, she has been an Africell subscriber over the years, and will remain loyal to the company.
Another beneficiary, Musa Touray, commended Africell for what he described as a generous gesture, noting that during Ramadan, Allah will reward anyone who gives a helping hand to the needy.
He also commended the government for creating the enabling environment for companies like Africell to operate in a friendly and peaceful atmosphere. 
Read Other Articles In Article (Archive)