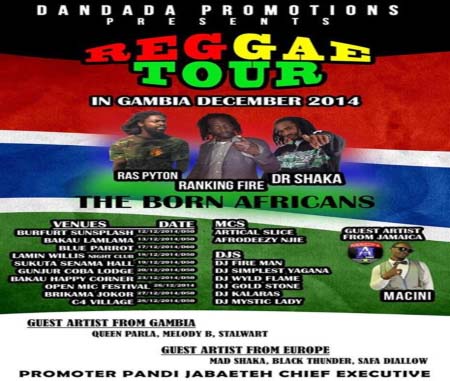 Gambian reggae group, Born African has announced to be back on stage in December after several years of absence in the music dubbed as 'Reggae tour'.
The tour, organised by Dandada Promotion, will commence at different venues December 12 in Brufut Sun flash, Bakau Lamlam, Blue Parrot, Lamin, Sukuta Cinema Hall, Jakarlo, Open Mic Festival, Brikama Joko and Bakau Park.
The tour will feature guest artists like Macini, Stalwart, Queen Parla and Melody B to be backed by Dj Fireman, Dj Lucky Bob and Dj Wyld Flame.
Ranking Fire, a member of Born African crew said Born Africans are ready for this musical comeback in the Smiling Coast in December, and those they have missed The Gambia and would use this tour to salute all their fans for their endless support to the crew over the years.
"To all our fans this is Ranking Fire, just want to let them know that they are the best and make us too be what we are today," he said.
He said despite living in different European countries, they always show up in one venue and on time, when there is concert and make it happen.
"I really miss the fans and we can't wait to see them all and let them come out in their thousands during the tour. As we look forward to the event proper," he said.
Born Africans, formed in 1998, comprised Dr Shaka, Ras Pyton, Ranking Fire, and Biggi release finest songs like 'Praises', 'Babylon Be Still', 'Jah Mysticness' 'No Camouflage feeling', 'No More War', 'Living Dangerously' and 'I Need You'.
During their days, the Bakau based group was emerging as one of the astonishing groups in The Gambia music scene.
Read Other Articles In Article (Archive)