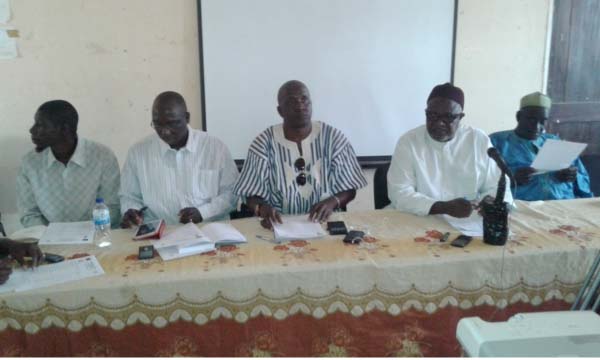 Agency for the Development of Women and Children (ADWAC) in partnership with the National Disaster Management Agency (NDMA) recently organised stakeholders' dialogue on climate change in Kerewan, North Bank Region.
The synergy was part of a five-month project support to The Gambia for integrated coastal zone management and mainstreaming of climate change.It is funded by European Union Global Climate Change Alliance (GCCA).
The five months project dubbed 'North Bank Regional Livelihood Improvement and Resilience Project' (NBRLIRP) is contributing to sustaining livelihoods and resource's in coastal communities.It is being implemented in Salikene and Mandori villages in central Badibou, and Sare Birom village in Upper Nuimi.
The objective of the forum was to create a platform for stakeholders to share best practices and contribute to risk reduction and resilience building to climate change.
Speaking on the occasion, Chief Fabala Fadia Kinteh of Lower Badibou thanked stakeholders in NBR for their contribution to the attainment of sustainable livelihood development for the people.
Mam Samba Joof, executive director of ADWAC, said it is important that approaches to mitigate effects of climate change are integrated.
The need for climate change adaptation and mitigation calls for multifaceted approach and should be seen as crossing-cutting issue in all spheres of development, he affirmed.
Mr Joof lauded the EU for the support in enhancing community resilience and mitigation to climate change.
Momodou BK Ceesay, regional disaster management coordinator, said the consultative forum contributes immensely in creating more awareness among institutions through sharing of best practices in mitigating climate change.
Bala Touray, station officer at Barra Fire Station, said the station is working closely with schools, markets and radio stations to increase public awareness on fire safety.
Fabakary Bass, regional nutrition field officer at Essau, said addressing climate change on food security would contribute to reducing malnutrition and boosting health status of mothers and children.
Mama Manneh, director of Njawara Agricultural Training Centre, said farmers should be empowered to become researchers in their fields to ensure the adaptability and sustainability of climate resilient crops.
Momodou Darboe, acting regional livestock director, said livestock farmers should be trained on how to conserve feed for animals as inadequate feed contribute to low milk and meat production.
Read Other Articles In Article (Archive)