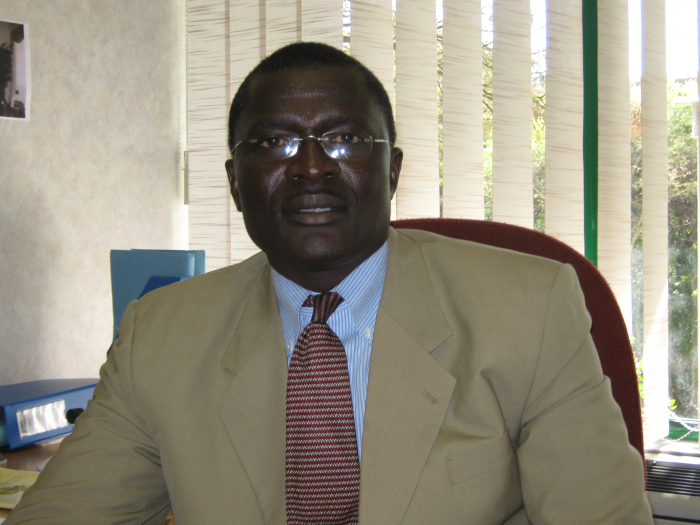 Hello and a warm welcome to yet another scintillating edition of Personality of the Week', your weekly colum aimed at bringing prominent Gambian top notches and achievers into the lime light.
In today's edition, we bring you the profile of a Gambian, who have no doubt achieved a lot in his life. He is no other than Mr Adama Deen, former Managing Director of the Gambia Ports Authority.
Adama Deen, a Gambian by birth, born in Banjul, in 1957. In his early life, Mr. Deen attended a number of primary schools, due largely to his dad's civil service career as a post master, which made him took a tour-of-duty in both urban and rural Gambian life - having attended primary school at Muhammedan, Kuntaur, and Serrekunda primaries, just to name a few.
From 1970 to 1974, Mr Deen attended the Crab Island Junior Secondary School, and subsequently, went to attend the Gambia High School from 1974 to 1977. Eager to be lettered, he left a short career in the civil service as a trainee film editor - to seek tertiary education in the United States of America.
From 1979 to 1982, Mr. Deen attended California State College of Pennsylvania (now part of the state university system of Pennsylvania), and graduated with honours with a Bachelors degree in Economics. From 1983 to 1985, he pursued a graduate degree programme in City and Transportation Planning from the Georgia Institute of Technology in Atlanta, Georgia. He later graduated in 1985 with a Masters degree from Georgia Tech.
As a young graduate with the requisite technological skills, Mr Deen went to work for the Metropolitan Atlanta Rapid Transit Authority (MARTA), as an operations analyst, and later promoted to the post of senior transportation planner responsible for long-range bus and rapid rail planning. At MARTA, he worked on the Transportation Plan for the 1996 Atlanta Olympics.
By sheer accident, Mr Deen whilst visiting home for the first time in 10 years in November 1989, was approached by the World Bank and the government of Gambia - and asked to consider working for the ministry of works & communications, as a transport planner, under the then Second Highway Maintenance Project (SHMP). He accepted to work for the ministry of works under a two-year contract from 1990 to 1992.
After the end of his contract in October 1992, Mr Deen accepted a civil service employment and continued to work for his ministry as a Principal Planner. In 1996, he was promoted to the post of Director of Planning and head of the transport planning unit at the same ministry. In 1997, he was re-designated as deputy permanent secretary at the ministry of works. In October 1998, following the school bus-service crisis, Mr. Deen was redeployed to the Gambia Public Transport Corporation (GPTC) as Director of Traffic Operations. With stability and improvement in the school bus service, given his broad technical background, he was re-deployed to the Gambia Telecommunications Company (Gamtel), as deputy managing director in November 1999.
During his tenure at Gamtel, Mr. Deen headed the senior management committee set up by the then managing director, Bakary Njie, to transform Gamtel's analogue mobile system to digital GSM platform. He successfully negotiated the first loan given to Gamtel by the Trust Bank Limited for the initial rollout of 15,000 subscribers, using Alcatel switch.
In December 2000, Mr. Deen was transferred again to GPTC for the second time, as deputy managing director, which position he served in, until January 2002, when he assumed the position of managing director, GPTC.
Following a short tenure of one month, he was transferred to the Gambia Port Authority in February 2002, as managing director. During his tenure at the ports, just to name a few, Mr Deen oversaw a programme of institutional and policy reforms - including the re-capitalization of the revenue generating assets of the ferry services, and its integration into the GPA structures; the preparation of the 4th Banjul port expansion study and master plan update; the reform of the dock labour scheme, as well as the re-capitalization of the cargo handling equipments of the port. In October 2004, his public service career ended, when his services were terminated.
From October 2004 to June 2006, Mr Deen pursued a transportation management consultancy business. In August 2006, he joined the transportation engineering consulting firm, URS Corporation (Tallahassee, Florida, USA), as a transportation and traffic operations planner - working on the Florida's Turnpike Enterprise (i.e., Highway Authority), transportation and traffic improvement schemes, mainly on traffic modelling and simulation assignments, using software such as CORSIM 6, Synchro 7, and Highway Capacity Manual (HCM) and Highway Capacity Software (HCS).
In February 2009, the NEPAD Secretariat, in a bid to capacitate its infrastructure division, recruited Mr Deen as a Transport Adviser, overseeing the NEPAD transport infrastructure programmes and projects; he currently resides and works in Johannesburg, South Africa.
Read Other Articles In Article (Archive)