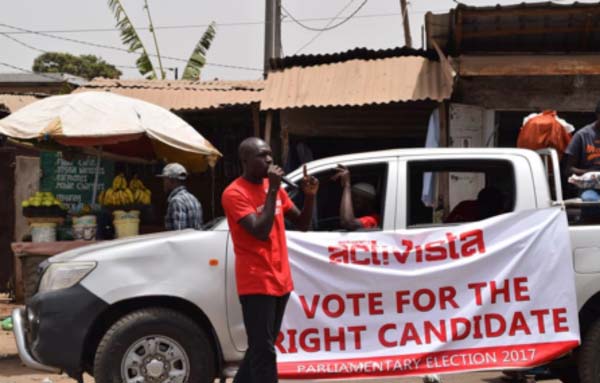 Omar Danso, Campaign Coordinator, Activista-The Gambia, has urged electorate to vote for the right candidates during the forthcoming April 6, National Assembly elections.

"We want to see National assembly members who can representative us in the parliamentary and that can only be done by voting for the right candidate," he told journalists during an interview on Monday, April 2, 2017.
However, Activista is on a five (5) days nationwide voter sensitization caravan to encourage people to vote for the right candidates, based on competent not party, tribe or religion and also vote wisely.
The campaign is meant to reach out to at least 45 of the constituencies to raise awareness of electorates to ensure that parliamentarians are elected based on capability and not by the political party they represent by April 2017.
He said if people are not properly represented there will be lot of bad laws that will be created in the country and that will affect the development of the entire country.
He noted that the campaign is also aim to reduce the level of voter apathy among the youth people as most of the youth did not consider the parliamentary election as very important.
"This is why many people did not go out and vote based on tribal line or family. This is why we are out to sensitize people to make them understand that competent matters," he said.
He added: "As young people of this country, we are the one who can make the change as a result we want to see people who are put in power are socially accountable to the people. We also want to create a platform where they will be answerable to their people in other to gage their progress and server in the best interest of the nation".
He challenged young people understands that they are the drivers of today not only future leaders and should take an active part in the decision making processes of the nation.
"We have to stand for our nation and not to see politic as the thing of the elders, but we have a big role to play in it in ensuring that we have a better Gambia," he noted.
He stated that if electorates of the Gambia are adequately sensitized on the importance of voting for the right candidates for parliamentary position, then they will vote not base on party, ethnic or religious but the capability and efficiency of the individual.
He said the country is increasingly facing tribal and political tension as the previous government used "divide and rule method" that is now creating lots of emerging episodes of violence among Gambians.
"The country that was ones known for its hospitality thus libeled as the smiling coast of Africa is now having cracks," he said.
According to him, these episodes of violence are now seen in various part of the country where most supporters of the former government are seeing a particular tribe as the main reason for the removal of the president forgetting the national interest.
"Activista the Gambia intends to engage party leaders, tribal leaders, religious leaders and supporters to enhance development and national interest ahead of individual interest and differences," he said.
He added: "The network intends to achieve these through series of methods of engagement to reconcile citizens and harmonization in our ethnic diversity to ensure parliamentary candidates are voted in based on capability not on political or ethnic line".
About Activista
Activista is ActionAid International's global youth network involving more than 250 partners and thousands of volunteers in 28 countries. Activista is part of ActionAid country programmes in some countries, as well as an independent umbrella of local and national youth organizations, movements and ActionAid partners in others.
In the Gambia Activista network is working to empower women and youths from different backgrounds across the country to actively participate and claim for their rights. In each of the regions, we have established regional structures that coordinate their activities with supervision of the secretariat.
The network has been actively embarking on successful advocacy and campaigns in the country, some of which included Right to Food, Free the Hungry billion, Land for smallholder Farmers, women inclusion in district tribunals and presently Youth involvement in governance and social accountability. We are also able to organize interface dialogue meetings between youth/ women and policy makers and other stakeholders.
Read Other Articles In Article (Archive)