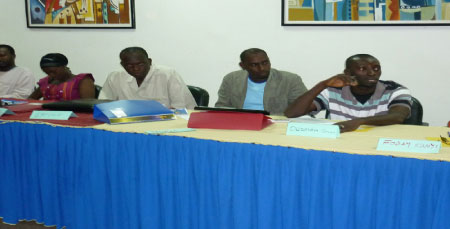 'Interesting and empowering', 'very relevant', 'the lessons I have learnt are core to what I will be doing', - these are just a few of the comments made by participants at the end of a two-week workshop on Governance organized by ActionAid International The Gambia.
Funded by ActionAid Denmark, the workshop was held to develop and strengthen the capacity of programme staff and partners, a strategic priority for ActionAid International, to improve the quality and effectiveness of our work on Right to Just and Democratic Governance.
This is necessary in order to attain the targets set forth in AAI's Governance Capacity Development Plan 2012 and for the capacity development process to respond to the emerging needs of ActionAid's governance work in Africa, Asia and other regions where it works.
During the two-week residential workshop held at Seaview hotel, participants were exposed to training in accountability covering a number of themes and sub-themes on governance.
'My skills have been improved to deliver on our campaigns,' said one of the participants, while another one said: 'before I was not very clear on the human rights-based approach, but now I am'.
One participant's comments said it all: 'We represent only a fraction of the 1.7 million Gambians in this country.  When we go back to our respective institutions, let us use what we have learnt here to make an impact so that there will be improved governance, and poverty would be history'.
The participants came from various government departments, NGOs and CBOs all of whom have an important role in creating an enabling environment for communities to fight poverty, injustice, exploitation and disease.
At the closing ceremony, ActionAid's Education Advisor Kadijatou Jallow, representing the Executive Director, stated that "the change we would like to see in our institutions begins within ourselves".
She told the participants, 'as we prepare our budgets, implement and monitor, we must endeavour to be transparent and accountable to our partners and the communities where we work'.
The Head of Policy at ActionAid, Lamin Nyangado, expressed the hope that the training session "was enlightening, and had made us understand that, as development practitioners, we are dealing with issues". He also hoped that participants are now more empowered, and can now hold themselves to account. Nyangado called for a change of attitude because, as he put it, human rights start with self. 
Moses Isooba and Monday Ogheneruona Itoghor, both trainers, thanked ActionAid for the opportunity to come and serve, and urged participants to put what they have learnt into practice. Certificates were awarded to the participants by the Education Advisor Kadijatou Jallow.
A second training programme on "Voice and Power" is expected to take place shortly.
Read Other Articles In Article (Archive)