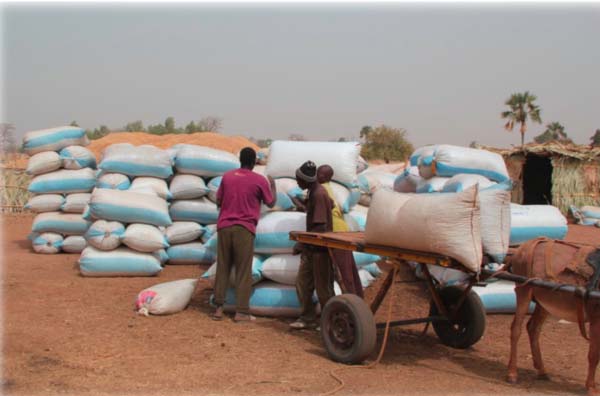 More than 30 participants from ActionAid International The Gambia and partner organisations have concluded a week-long review and reflection process on programmes implemented in 2014.
The process, called Participatory Review and Reflection Process (PRRP), is held annually by ActionAid with the participation of staff and partners to review programme implementation and performance in the previous year.
It provides the space for sufficient interaction between the various stakeholders for deeper reflections on programme performance and quality, and its impact on people living in poverty.
The information gathered during the process informs the annual report and the next programming and planning cycle.
The 2014 PRRP exercise covered programme areas in the North Bank, Central River and Upper River regions.
Participants were divided into five teams and, over a three-day period, the teams visited and had discussions on ActionAid-supported projects in Dembaholeh, Toubakolong and Juffureh in the North Bank; Sotokoi, Mamudfana, Bamba kolong, Sare Annis, Dankunku, Brikamaba and Fass Upper Saloum in Central River Regions north and south; and Jakaba and Sutukonding in Upper River Region.
Programmes visited included milling machines, beekeeping projects, hand pumps, seed stores, tie dye and batik, poultry production, vegetable gardening, HIV support societies, groundnut marketing, group management, proper record keeping and a community radio, among others.
Speaking at the opening ceremony in Tendaba in the Lower River Region, the Executive Director of ActionAid, Omar Badji, said PRRP is an exercise meant to reflect over past interventions and experiences looking at what worked well, what did not work well andwhat communities, ActionAid, partners and other stakeholders can do together to improve programme quality.
"It is a continuous process and all of us must be held accountable for our actions," Mr Badji said, adding that the information gathered "will greatly enhance programme quality in our next program me planning."
The head of programmes and policy, Kebba Sima, commended participants for the seriousness and commitment demonstrated during the process, whilst assuring them that their efforts would not go in vain.
The 2014 PRRP is the third to be conducted since ActionAid began implementing its fourth Country Strategy Paper (CSPIV) in 2012.
Findings generated by these reviews have provided useful information for the annual reports and strategic planning purposes. 
Read Other Articles In Article (Archive)