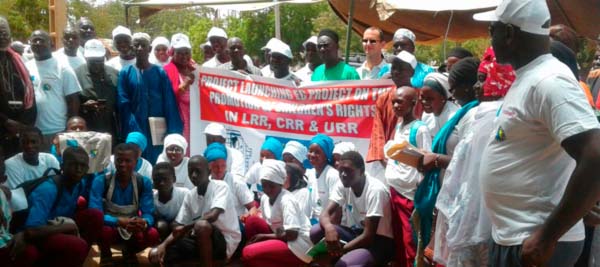 ActionAid International The Gambia in collaboration with Child Protection Alliance (CPA), Forum for African Women's Educationalists Gambia Chapter (FAWEGAM) and the European Union, on Wednesday launched a child rights project entitled: "Empowering Child-focused Organizations to Promote Children's Rights in LRR, CRR and URR."
The launching ceremony was held in Jarra Soma in the Lower River Region.
Speaking at the launching, the Executive Director of ActionAid International The Gambia (AAITG), Omar Badjie, said the project is another step towards positively changing the lives of vulnerable children, especially children with special needs.
He said through the coordination of CPA and FAWEGAM, the project will strengthen and empower child-focused local organizations to lead child rights advocacy in CRR, LRR and URR.
Most importantly, he went on, the project will empower children as rights claimants with requisite skills and knowledge to demand for rights and protection.
"We mean any person under the age of 18 years, as such children are viewed as persons with limited capacity to make informed choices and decisions," Mr Badjie explained.
"Their lives, survival and development are largely dependent on us as duty bearer. Therefore, it becomes our responsibilities to ensure not only are their rights are promoted, respected and fulfilled, but protected, especially against all forms of violence, including sexual violence and harmful traditional practices like FGM, early marriage, forced marriage and other harmful practices."
Mr Badjie further emphasised that as a country, "we want to be seen fulfilling our commitments and responsibilities as enshrined in the CRC, ACRWAC, CEDAW, Children's Act 2005, Women's Act 2010, Trafficking in Persons Act 2007, Sexual Offences Act 2013, Domestic Violence Act 2013, Anti-FGM Act."
He said fulfillment of their responsibilities will also include providing a conductive environment for the child's development.
"These children, whose rights we are striving to protect, will constitute the future workforce as they will become the directors, national coordinators, governors, ambassadors, teachers, lawyers and doctors of our great nation," he said.
In his remarks at the launching ceremony, the Governor of the Lower River Region, Salifu Puye, said it is the responsibility of everyone in society to protect the rights of children, by "supporting them throughout their lives - from the house to the school and communities - to be better leaders tomorrow".
He added that the empowerment process should start from the home, where their confidence should be built before they go out.
"Thus the onus lies on each one of us, and we have a role to play in the empowerment process; therefore I urge all key stakeholders, local authorities, governance structures at household, community, district and regional levels, influential people, parents and children to support this worthy cause," Governor Puye said.
"The Gambia government is committed to the empowerment of children; that is why the Children's Act 2005 was domesticated to protect the rights and welfare of the child," he said.
"The Convention of the Rights of the Child and African Charter for the Rights and Welfare of the Child are international instruments the government has adopted, even though they are international instruments, for the enhancement of children's rights in the country." 
Read Other Articles In Article (Archive)