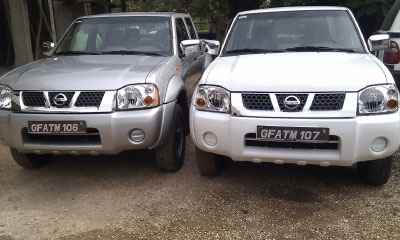 Action Aid International The Gambia (AAITG) on Thursday handed over two vehicles to Santa Yalla Support Society (SYSS) and Mutapola organisation at AAITG head office in Kanifing.
The vehicle (double cabin pick-ups) worth D1, 658,946.00 were brought by the Global Fund for use by the beneficiaries, to transport critical patients to clinics and to run other errands.
Speaking at the handing over ceremony, Mrs. Jainaba Nyang-Njie, AAITG's Head of Communications and Documentation, expressed delight at the gesture.
According to her, SYSS is a sub-recipient of the Global Fund's implementing care and support programmes in the West Coast Region and KMC, while Mutapola is also a sub-guarantee of the fund under the National AIDs Secretariat.
She expressed hope that the vehicles will go a long way towards easing some of their transportation challenges.
For his part, Almamo Barrow, Manager for Health programmes, who read the handing-over statement, on behalf of AAITG's Director, Dr. Kujejatou Manneh, reminded the audience that the country has committed herself to halt and reverse the prevalence of HIV infection from 2.8% to 2% by 2014, through the provision of comprehensive HIV& AIDs prevention, treatment, care and support in The Gambia.
"This is a lofty goal the achievement of which requires collective and timely efforts.
This cannot be done without good mobility facilities and office resources, like computers, printers, generators, and office furniture, among others," he said.
He finally challenged the recipients to make the best use of the vehicle, by ensuring that trained personnel are employed to manage them and to regularly service it.
For his part, Alpha Khan, deputy director of NAS revealed that the goal of Global Fund against AIDs, Tuberculosis and Malaria (GFATM) is to "halt and reverse the prevalence of HIV infection, by providing universal access to high standards of prevention, treatment, care and support in The Gambia."
He talked about the close collaboration that exists between NAS and AAITG in achieving the goal to fight against AIDS.
He urged the beneficiaries to always take good care of the cars and maintain them at all cost, as according to him, they have a purpose to serve.
Lamin Nyangado, the Executive Secretary of the Gambia CCM underscored the difficulties encountered in acquiring the resources.
Lamin Ceesay, the President of SYSS, who delivered the vote of thanks, commended Global Fund and Action Aid for their intervention.
He assured the donors that they would put the vehicles into good use.
Read Other Articles In Article (Archive)