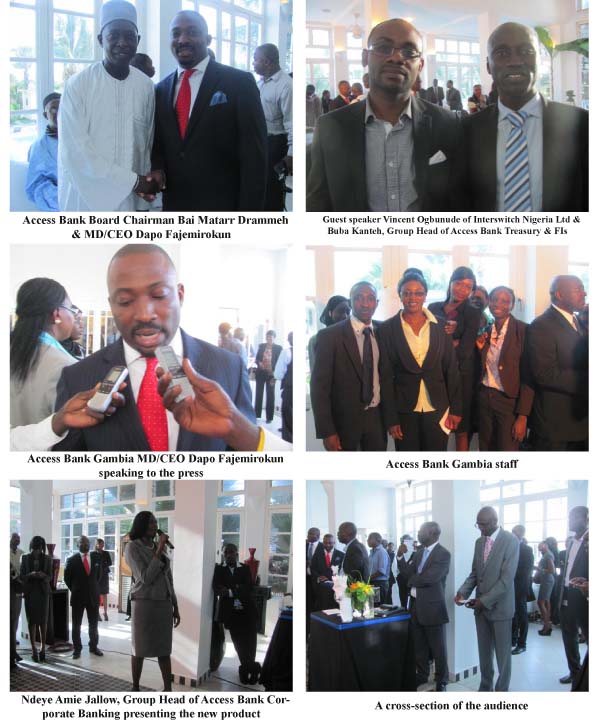 Access Bank Gambia Limited, the trendsetting bank in many respects, has introduced the Gambian banking industry's first Visa Classic Debit Card to fast-track business and financial transaction, as well as promote economic growth, through e-payment.
The introduction of the Access Bank Gambia Visa Classic Debit Card has made the bank the first financial intermediary to bring this product and service to the doorsteps of Gambians in addition to other "firsts" it has attained over the years in other disciplines in the banking life of The Gambia.
"Access Bank is the first African Bank to install Automated Teller Machines (ATMs) in The Gambia, the first Bank to introduce Point of Sale (POS) terminals in The Gambia, the first Local Bank to conduct a Preference Share issue, the first Bank to win consecutive Governor's Inter-Bank Football Tournaments, the first Bank to sponsor a student exchange programme between The Gambia and Nigeria through the University of Benin, and the first Bank to issue both Visa Credit and Debit Cards in The Gambia!" says Access Bank Gambia  MD/CEO Dapo Fajemirokun, at the launch of the new product at the Coco Ocean Resort & Spa in Kerr Serign on 3 July 2013.
The Access Bank Visa Classic Debit Card is linked to an Individual/Corporate Dalasi account designed to provide account holders with access to cash directly from their accounts anytime they need it, says Ndeye Amie Jallow, Group Head of Access Bank Corporate Banking.
The Visa Classic Debit Card can be used for cash withdrawals, bill payment, purchase of goods and services using POS terminals and the Internet, printing out mini statements, and making International transactions while being overseas.
"The card is also useable on over 2 million ATMs in over 200 countries worldwide," Ndeye Amie Jallow says, adding that the benefits of the card include a secure, convenient and simple way of using it; instant cash withdrawals round the clock; permission of global access to funds in customers' accounts, safety for customer as against carrying large amounts of cash around; useable on Visa-enabled ATMs, POS and websites, and safety and security of transaction due to chip & pin technology.
Ms Jallow also ceased the opportunity to re-introduce the bank's retail and e-banking products, such as its Standard Current Account, Standard Savings Account, Access Smart Savers Account, Solo Account, Access Premier Account, MPower Biz Account, as well as its Point of Sale (POS) Terminals and Access Visa Credit Card.
The guest speaker of the occasion, Vincent Ogbunude of Interswitch Nigeria Ltd said: "The Access Bank Gambia Visa debit card allows you to access your Dalasi account anywhere you find a Visa logo in any country or territory around the world. You basically carry your bank with you, anywhere you go; you are also not constrained by exigencies."
He also cited Nigeria as a case in point of e-payment via ATMs, saying: "Today, statistics in Nigeria provide the evidence of the value and the benefits of e-payment to the people and to the economy.
"According to recent surveys in Nigeria, 75% of customers prefer withdrawing money via ATMs over branches; 55% of customers prefer checking balance via ATMs over branches. The plan is to replicate similar success in The Gambia and to boost the Gambian economy."
It is without question that the growth of the e-payment industry in a country will stimulate growth in its economy, Mr Ogbunude says, adding that people have seen the effects of e-payment and debit or credit card penetration in both emerging and developed economies.
"For customers, it offers convenience; for retailers and corporate organizations, it ushers a new customer base that now has faster and cheaper means of accessing funds," he said. 
"For the government, it will increase potential tax collections. It will help achieve greater financial inclusion for the country. There will be reduction in the gray economy due to lower unreported cash transactions and this will allow government to effectively apply monetary policies in managing inflation and encouraging economic growth.
"The ripple effect will be a bustling economy, with more job opportunities, with more business opportunities and with benefits to everyone in the value-chain."
The history of Access Bank Group is a long story but Buba Kanteh, Group Head of Access Bank Treasury & FIs, summarised it in his presentation saying the bank that came into existence in 1989 has today expanded in over 10 countries around the world including Nigeria, the United Kingdom, Ghana, Zambia, Rwanda, The Gambia, Democratic Republic of the Congo, Sierra Leone, Cote d'Ivoire, and Burundi.
Mr Kanteh says the bank presently ranks among the top four banks in Nigeria and the top ten banks in Africa in balance sheet size.
Talking about the Gambia subsidiary, Mr Kanteh said Access Bank Gambia, which  commenced operations on 30 October 2006 with  authorised share capital at inception of D60 million (UD$2.3 million - owned 75% by Access Bank Plc and 25% by Gambian individual and institutional Investors) has done a lot in providing standard products and services to its clientele.
In February 2010 Access Bank was awarded the Order of The Republic of The Gambia by His Excellency Dr. Alhaji Yahya A.J.J. Jammeh for its contribution to the socio-economic development of The Gambia, he said, citing many accolades the bank has got over the years.
Access Bank Group's awards, according to Kanteh, include Best Annual Report Award 2006 (Fortune Magazine Award); Best Telecom Financing Bank of the Year Award (Nigeria Telecoms Award); Innovative Trade Structures Award Int'l Finance Corp (IFC); Most Innovative Bank Award (African Banker Magazine); Customer Service Excellence Award (KPMG Nigerian Banking Industry Customer Satisfaction Survey Award) among others.
In his brief remarks on the occasion, Access Bank Board Chairman Bai Matarr Drammeh commended the Access Bank teams both in Nigeria and The Gambia for their professionalism and banking standard, which are direct products of their Corporate Philosophy. This, he said, includes their Vision to be the most respected bank in Africa; their Mission of setting standards for sustainable business practices, as well as their core values of leadership, excellence, empowered employees, passion for customers, professionalism, and innovation.
All these have boiled down to letting Access Bank Group Managing Director, Aigboje Aig-Imoukhuede, win the 2013 'African Banker Of The Year' Award annually organised by African Banker Awards, the publisher of African Banker Magazine, IC Events and Business in Africa Events.
Read Other Articles In Article (Archive)