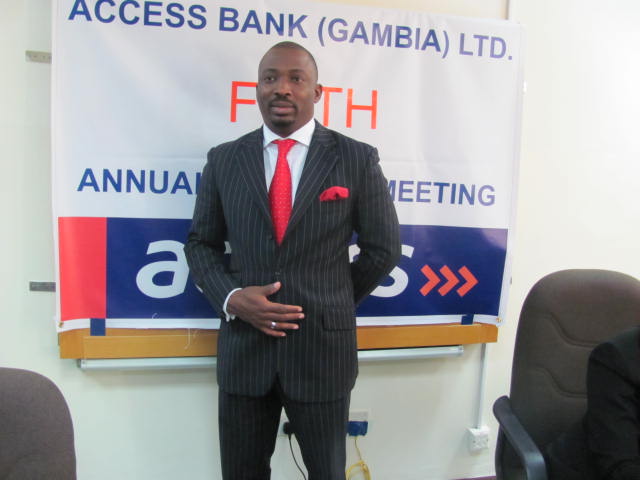 Access Bank (Gambia) Limited held its Fifth Annual General Meeting at the Bank's Head Office along Kairaba Avenue.
Commenting on the Financial Performance of the Bank for the year ended 31st December 2011,   the Chairman Board of Directors, Mr. Bai Matarr Drammeh said that the bank implemented turnaround strategies that resulted to operational profit (before credit losses) of GMD3 Million compared to a loss of GMD16 Million in year 2010.  However, the high level of Non-Performing Loans (NPL) was a challenge which led to further provisioning. However, this trend has been reversed as the bank is already making remarkable progress in collections of NPLs.
Total assets and contingents grew by 7.7% from GMD920 Million in 2010 to GMD991 Million in 2011.  The bank is focused on a path of sustained operational profit while pursuing recovery and improving the quality of its loan portfolio.
The Chairman announced the appointment of Mr. Oladapo Fajemirokun as the new Managing Director/ Chief Executive Officer. Mr. Fajemirokun comes from the Group office in Nigeria with over 15 years of experience in Corporate, Development, Commercial banking and Oil & Gas. He stated "I am confident that his appointment will continue to drive the bank in the path of sustained profitability".
The outgoing MD, Mr. Oleka Ojiogo was thanked for his stewardship and commitment during his tenure and wished well in his new assignment at the Group Office.
On Corporate Social Responsibility, the bank during the year, donated food items and detergents to the SOS Orphanage and Clinic.  The Santa Yalla Support Society (SYSS) benefited from the Food Items geared towards the supporting Gambians living with HIV/AIDS in line with our CSR objectives. Staff members were also involved in Corporate Social Responsibility.  Their interventions centered on donation of mosquito nets and gifts to the Children's ward of the RVTH and sponsorship of a student at the Latrikunda Upper Basic School.
Read Other Articles In Article (Archive)