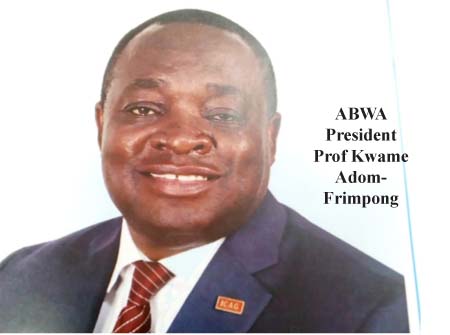 Prof. Kwame Adom-Frimpong, the president of ABWA has pointed out that with a population of over 350 million people and many diverse natural resources, the West African economy is yet to make its mark in the global economic development space.

He highlighted that the economic growth rates of the various countries are insufficient to make significant reduction in poverty levels, noting that while the world has moved on from manufacturing to the export of intangible products and services as part of their strategies to create more value, the sub-region still practices subsistence agriculture, exports primary products, earns little income, experiences poor savings, attracts poor investments and therefore, remains a poor sprinter in the global economic development race.
"The narrative about West Africa should and must change", he remarked, saying the challenge of infrastructural development and citizens' access to the basic needs of life remains profound with the situation further worsened by leadership challenges at all levels.
He therefore called on leaders and influencers, professionals and individuals to support good stewardship and uphold their professional and personal conduct and practices.
Prof. Adom-Frimpong made these remarks on Thursday during the opening of the Economic Community of West African States (ECOWAS) Commission and the Association of Accountancy Bodies in West Africa (ABWA) joint accountancy congress hosted by The Gambia Institute of Chartered Accountants (GICA) at Ocean Bay Hotel, Cape Point Bakau.
The two-day congress brought together professional accountants from all ECOWAS member states including resource persons to discuss topical issues under the theme: "Accounting for stewardship and sustainable development".
In his keynote address, Gambia's Finance and Economic Affairs minister, Mambury Njie said it is their hope that the congress will be a catalyst for the deepening and transformation of accounting landscape in The Gambia impacting both the public and private sectors.
He pointed out the theme for the congress was in line with President Barrow's vision as enshrined in the NDP 2018-2021.
He urged participants to pay attention to the judicious use of financial and economic resources to uplift the citizenry of their respective countries; based on good governance and the principles of accountability and transparency.
Mr. Njie highlighted strides being taken by ECOWAS and its member states to promote further economic and financial integration with the view to promoting trade, free movement of goods and people based on the two pillars of economic and monetary union.
"It is our belief that the potential that is embedded within intra-African Trade far outweighs the benefits currently being derived from our individual bi-lateral trade agreements with the estimated blocks such as the European Union, USA and the Asian countries," he stated, saying accountants have a pivotal role to play in the realisation of these major transformational initiatives to benefit our people.
Read Other Articles In Article (Archive)