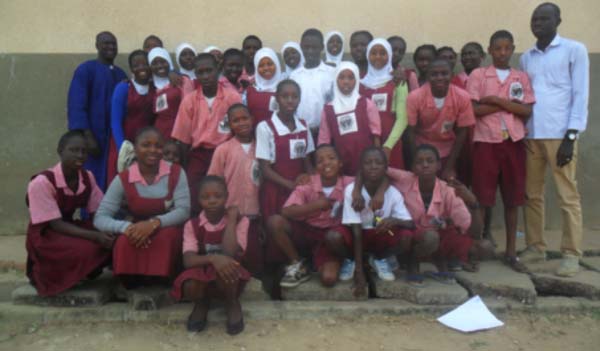 Thirty Peer Health Club members of Abuko Upper Basic School in Region One of the Kanifing Municipality Friday attended a daylong training workshop on good behavioral attitude, organized by the teacher coordinators of the said school peer health club, and sponsored by the school administration.
Addressing the club members, the school principal, Ms Marian Williams, advised them to always emulate good things in their life so that they could set good examples to their peers, whether within or outside the four corners of the school.
They also want them to acquire a good education, Ms Williams told her students.
Williams further told students that as teachers they do not want to see them (students) follow the bad footsteps of their peers, adding that as young promising children they are supposed to tell their parents the importance of education.
"You are the one who should discuss with peers how to speak to their parents and teachers, becauseat this stage you can made changes and, as far as my institution is concerned, we will empower you to be become productive future leaders of this country," Ms Williams promised the students.
"Your role as peer health club members is to change people's attitude for the better, especially your peers who will listen to you more quickly than other people," she concluded.
Boubacarr Sambou, a teacher at the school, advised the club members to be sociable with their peers and the people they are living with, so that they could make better life changes in people.
"As peer health members, your role is always to be peace-makers not peace-brokers within the environment in which you stay, because at your age you can make changes to the lives of other people," Sambou advised the students.
Ousman Ndow, an Arabic/Islamic teacher at the school, dilated on the topic: 'students' discipline', pointing out that nothing could succeed in this world when there is no discipline.
He noted that as future leaders of this country, what they needed at this early stage of their life is to nurture discipline, if they want to succeed in life.
"Put aside jealousy and hatred against your fellow human beings, because whenever someone has that sentiment in him what comes to your mind is to have bad intentions for the individual, which is unIslamic," Oustass Ndow urged the students.
According to teacher coordinators, the club was formed for their students to be aware of certain issues that are important to their lives.
The coordinators said since the club was formed in 2012, they have carried out many activities within the school, key among which were the performing of drama in malaria, a cleansing exercise within the school campus, addressing non-peer health members on the dangers involved in teenage pregnancy and talking to students during assembly periods on HIV/AIDS.
Read Other Articles In Article (Archive)