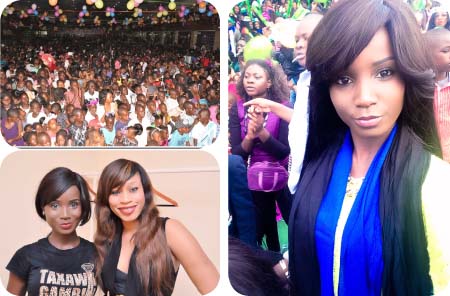 As part of taking the country's entertainment sphere to higher level, Absolute Entertainment Chief Executive Officer Haddy Faye, has gone another step further by bringing into The Gambia a superb, innovative and entertaining show that is out to help children realize their potentials.
Called PtitBal and Senptit Galle, from Senegal, the show was held in The Gambia on December 25, 2013 to promote children and youth development as well as encourage self-expression and help children realize their gifts of performance.
Speaking in an interview with Point Entertainment and Lifestyle on Monday at her office, Haddy Faye, CEO of Absolute Entertainment, said the event was successfully held in The Gambia, and PtitBal and Senptit Galle as the name goes, are two major events in Senegal.
The first is a great spectacle of light and sound dedicated to children and the second is a successful reality show to the discovery of talented children singers.
P'titBal Senegal, which is now in its 7th edition, gathers every Dec. 25 in Dakar more than 8,000 people including 6,000 children and 2000 adults.
This moment of extraordinary communion, provides an opportunity for children of all social classes to meet, exchange and dance to the music of our famous artistes.
It is because of the underlining benefits of capacitating our children that Absolute Entertainment, a new and young entertainment company, owned byMs Haddy Faye, a young dynamic Gambian, is gearing towards total entertainment and promotion through the brilliant participation of the talented Awa from The Gambia who pushed Prince Arts to collaborate with Absolute Entertainment to come and thank Gambian people and authorities by bringing the concept of P'titBal to The Gambia and, in addition, offers Gambian children an unforgettable show.
According to Absolute Entertainment dynamic CEO, the event serves as a forum for "self-expression" for children and also as a means of fostering friendship and cordial links between The Gambia and Senegal.
P'titBal in The Gambia was hosted live by children of SenP'titGallé including winner of the First Edition Doudou, winner of the Second Edition SALIOU, and the two finalists of SenP'titGallé this year - MOUSTAPHA Mbegue and Awa of The Gambia.
The young and charming lady says further that spicing up the event was special side attractions and musical performances by some of Gambia's most prominent artistes as well as guest artistes from Senegal, including AIDA SAMBA with her group who entertained the children as well as music lovers at the event.
Questioned on what motivated her company to get involved in such a monumental endeavour, Haddy said the love of children and the desire to contribute meaningfully to the socio-economic development of our young ones moved her to be part of the event.
She added: "In accordance with our pledge to contribute as much as possible in line with our social corporate responsibility, a huge percentage of the proceeds from the event will be donated to help disabled children in The Gambia."
She added that the event was highly successful with over 4,000 children and parents in attendance.
In conclusion, the young dynamic lady sent special thanks to Absolute Entertainment team members Oumie Fofana, Oley Faal, William Brown, Njillan Faye, Lamin Manga, Saul Sowe and Dr Kenneth D. Jackson of SCE1-1Blood.
She also sent special thanks to the main sponsor of the event, such as the National GSM Operator Gamcel, Gambega, Daily Observer, Unique FM, Capital Fm and Prince Arts (of Senegal).
Read Other Articles In Article (Archive)