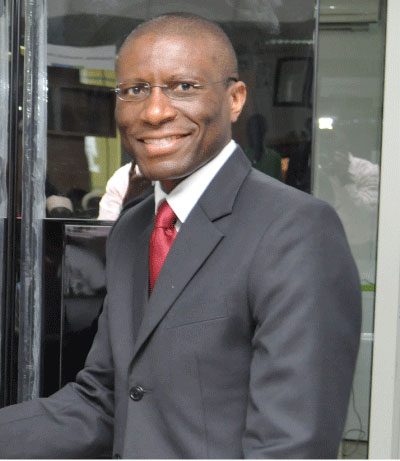 Humphrey Mukwereza, the Chief Executive Officer of Standard Chartered Bank Gambia Ltd, has described 2014 as a very successful year for the banking industry, especially for Standard Chartered Bank (SCB).
He made this statement in an interview with The Point newspaper on the occasion of theCommemoration of the United Nations' 69th Anniversary at a reception held at the Kairaba Beach Hotel on Friday, 24 October 2014.
Mr Mukwereza emphasised the importance of this year's UN theme "Youth- A Valuable Partner in Improving Food Security and Reducing Poverty".
He described the theme as "cannot be more relevant"."I think the UN chose this theme very carefully. It is in line with our Vision 2016 for food self-sufficiency, hence very timely and most relevant," he said.
The SCB CEO further highlighted that "the youths are the future of our country. They have been fully supported by the government whether it is in agriculture, or education at the university. They must, therefore, take advantage of these opportunities and develop themselves to build the nation for the future."
Mr Mukwereza also commented on what the bank iscontributing in Financial Education for the youths.
"We're using our skills to build the financial capabilities of young people in The Gambia. In September this year, we taught more than 100 students between the ages 14 and 17 at the SBEC International School on the value of Personal Financial Management, Budgeting, and the Importance of Savings," he said.
The bank also launched The Dual Desk Project in 2013. This is a project which seeks to distribute an overall total of 1,000 desks by the end of 2015 across The Gambia.Five regions are receiving a minimum of 100 dual desks each as part of the Banks' sustainability agenda benefitting over 5,000 children in the Ministry of Basic Educations' priority areas.
"Under our youth initiative, over 22 staff volunteered at the Sinchu Orphanage that houses 22 children, ranging from 2 to 12 years old. Staff volunteered their time to clean toilets, sweep the building, gardening and other household chores. In addition, household cleaning products, school items and food provisions to the tune of over D20,000 were donated to the orphanage," he said.
The SCB CEO seized the opportunity to underline the heritage of the bank. "We are part of the Standard Chartered Bank Group and have been in The Gambia for over 120 years, being the longest serving commercial bank in the country," he said.
"The bank is 'here for good' and continues to stay committed to promoting the social and economic well-being of communities as a critical component of our strategy to support sustainable development in our markets. Our community investment activities focus on health and education, with youths as a target demographic."
Read Other Articles In Article (Archive)