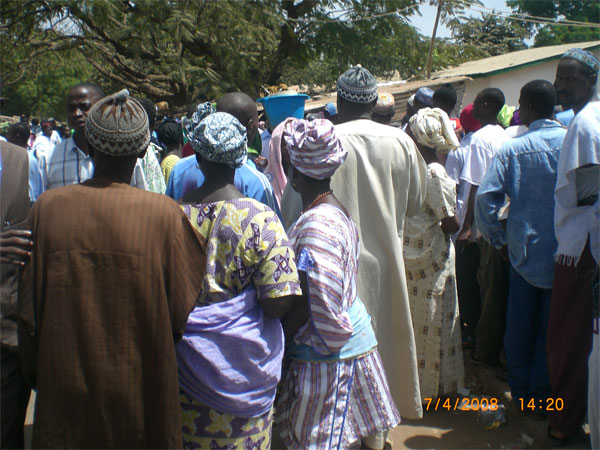 The 88 people recently arraigned in connection with the
Babylon
incident, together with seven other suspects added to the list of accused persons, were yesterday granted bail by the Brikama Magistrates' Court.
Altogether there are 95 people now standing accused. Dawda Jarjue, Samba Camara, Dawda Camara, Amadou Secka, Amin Colley, Karafa Jawara, Yaya Suwareh are the seven new suspects arraigned
They were each granted bail in the sum of D10, 000.00 with a Gambian as surety, following bail applications made by Mr Antouman Gaye and Mrs. Amie Joof-Conteh, defence counsels.
Earlier ASP Juldeh Camara, the prosecutor, strongly opposed the bail applications as, according to him, investigations are yet to be completed and that granting the accused persons bail at that point in time would affect the investigations. He expressed the concern that the accused persons would tamper with the ongoing investigations if granted bail. His objection was however overruled by the presiding magistrate, Edrisa Mbai
Lamin Jarjue, the supposed Alkalo of Babylon, who is the principal prosecution witness, told the court that on the fateful day, Sunday 30thMarch, he saw nearly 100 people at a distance, dismantling and setting fire to some houses as they advanced toward his house. He testified that among the suspects he could recognise Yusupha Badjie, Yankuba Jammeh, Karafa Jawara, Yaya Suwareh, Sambou Camara, Alansana Jammeh and Ebrima Manneh. He stated that his own house was among those destroyed, indicating that the suspects used peak axes and hammers to knock down part of his house.

Under cross-examination, Lawyer Gaye asked Lamin Jarjue whether there is any official or recognised village called Babylon? He answered in the negative. Asked further why he had installed himself as the Alkalo of Babylon, subdividing and allocating land to people, Mr Jarjue maintained that he was giving land, free of charge, to people from what he owned but not as Alkalo
Lawyer Gaye put it to him that he had sold a total number of 46 plots of land, a claim Mr Jarjue denied. The case continues on Tuesday, 22ndApril 2008
Six of the accused persons are represented by Amie Joof- Conteh, while the rest are being represented by Lawyer Antoumam Gaye.
Read Other Articles In Article (Archive)