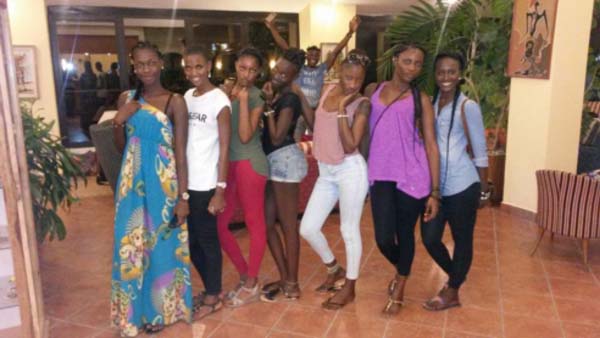 The Fashion Weekend Gambia Friday had a preview on all the models and fashion designs, at the Seaview Hotel in Senegambia, for the upcoming Fashion Weekend Gambia show.
Fashion Weekend Gambia is the body that brought up different models and different fashion designers to showcase their talents to The Gambia and the world at large.
According to the then co-founder of Fashion Weekend Gambia (FWG), Lena Grey-Johnson, they need more people to come out and support them as they will be organizing another show on December 4 and 5 where designers and models will showcase their talents.
She said since the establishment of FWG in 2012, the challenges faced by them are mainly financial issues, as they are not financially strong, despite the preparation, because there are lots of people involved in the process, and they really need individuals and partners to come and support them, as this year will be greater and better.
Mrs Johnson urged all Gambians to come out in their large numbers to support their very own, because FWG is Gambia's own, only Gambians are involved in the talent showcasing.
She said a lot of amazing things will be there, and people need to come out and support them.
One of the male models, Yunus, during an interview, said he has been in the modeling industry for 4 years now and has been in the fashion weekend show for a long time.
He said it has really helped him because he has learned new things in the modeling industry, stating that the experience is very good because at least Gambia would be familiar with things like this.
"Everything starts from the grassroots level; that is why I am where I am today because 4 years is a very long time now," he said.
He explained the constraints as a male model in today's world, saying that many people think that most people in the modeling industry are jobless.
He stated that modeling is an earning profession just like any other job, adding that people term them as jobless, but when looking at the real meaning of modeling it's also a noble profession like any other.
"To be honest, I'm not jobless. I am a model and I have my own fashion boutique which is located at Kololi. I also do organize programmes like house parties and shows. So it's not about we don't have a job; it is about having a passion for fashion," he said.
Rama Bailo, the winner of the Fashion Weekend Gambia this year, gave her experience since she entered the modeling industry, adding that it was not that long.
At first she wanted to be a dancer, but having the love for fashion and modeling has made her to be one of the top models in The Gambia.
"I feel so good and very proud to be crowned the winner of the FWG this year, and I am very glad and will continue to support and encourage the young with talent to come on board and showcase what they have," she said.
Speaking about modeling, she said it was much easy if you get everything needed to be a model, and that she is proud of the qualities she has, which helped to make her the winner that night as the queen of the FWG.
She said she has not yet travelled or had any international contract in fashion or modeling, but she would be glad to grab the opportunities if they come her way, so as to show the world what she has and what she could do.
"Modeling is not just about the money, it is about the dream of being a model, which the country and the people will give you that will make you a superstar," she said.
Lamin Wally said: "I started modeling about 2 years ago. This is my second year, all thanks to FWG who supported and motivated me, advising me and telling me that I have the body and the qualities to be in the modeling industry".
According to him, to be a model one has to have a unique body, the body should be in good shape and one has to attract the people to show them what you call yourself or make them conclude by themselves by seeing you.
Read Other Articles In Article (Archive)