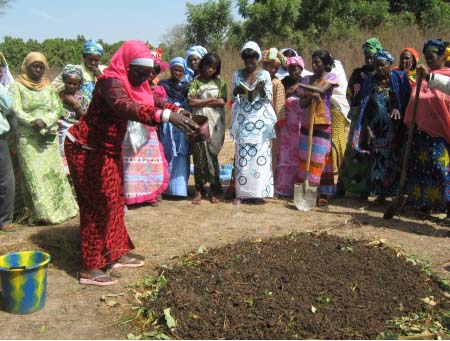 The Ministry of Agriculture, through the regional Directorate of West Coast Region with support from the Livestock and Horticultural Development Project (LHDP), over the weekend awarded Forty-eight African Development Bank-sponsored farmers in West Coast Region with certificates.
The farmers received the certificates after successfully attending a two-day intensive step-down training on basic livestock and horticulture production techniques under the auspices of the LHDP with funding from the ADB and executed by the Directorate of Agriculture, West Coast Region.
Speaking at the training, Isatou Jarjue, one of the team facilitators attached at the regional directorate West Coast region as a planner, said the training was held to empower the farmers on the basic knowledge of agricultural skills such as production, marketing, organizational management, agri-business and composing for vegetables and fruit production.
The aim, she said, was to ensure that farmers have the basic skills to adopt best practices in improving their daily agri-businesses.
While underscoring the importance attached to the training, Madam Jarjue said the training provided the farmers the opportunity to share their experience and expertise, learn from each other and carve the way forward in the best interest of their businesses.
She expressed her impression about the level of participation of the farmers, saying the farmers are now digesting some of the information provided to them by officials of the regional directorate of West Coast Region during the training.
She also commended the LHDP for supporting the training, stating that knowledge gained from the training would go a long way in helping the farmers to manage their businesses prudently.
Also speaking at the end of the training, Ousman Jammeh, Regional Agricultural Directorate for West Coast Region, expressed "total satisfaction" over the level of participation of the farmers in exchanging their experiences and expertise regarding basic knowledge on livestock and horticultural production techniques.
Jammeh also expressed the LHDP's readiness to always empower farmers with the necessary knowledge to manage and improve their agri-businesses.
He then lauded the LHDP for being an exceptional project, with other projects in the country.
While challenging the farmers to put the knowledge gained into practice, he also urged them to adopt best practices that will yield dividend on their daily businesses.
For his part, Sheriff Sanyang, monitoring and evaluation officer of the LHDP, spoke at length about the importance of the training of famers and the readiness of the LHDP to alleviate poverty in the country.
He noted that one of the targets of the project is to fight against hunger and improve the livelihood of the farmers.
He then challenged the farmers to take ownership of the training, which, he noted, will have a great impact on them.
Read Other Articles In Article (Archive)