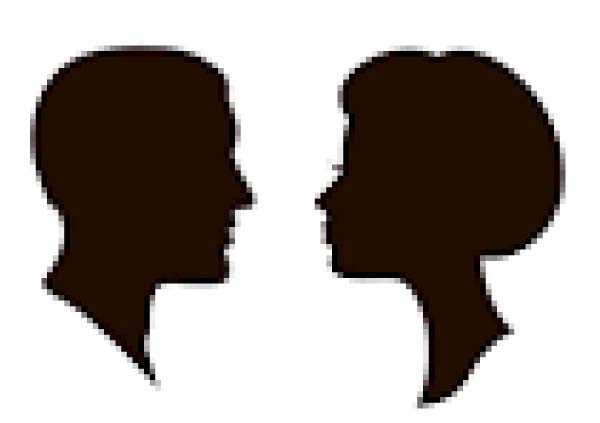 Well, this has been a debate over the weekend, when I paid a visit to my friend's house.

I was sitting and chatting with my friend, when three beautiful ladies walked in, and they were introduced to me as her cousin sisters.
Oh! I can confess to all of you that these ladies are very pretty.
They are not fair in complexion; they have a chocolate colour, smooth and shiny skin and, when they smile, the whole world smiles back.
After taking a closer look at these slim, tall and curvy ladies, I can confirm that if I was a man I would have proposed to all of them, at once.
As pretty as they are, these ladies are having tough times keeping their men, and that was the agenda of the meeting. Their sister told me that even though they each are career women, and busy throughout the week, they still have a day that they all choose to come together and talk about life or issues of women, and they called it 'ladies Saturday.'
So, as we all were sitting and enjoying a beautiful chat accompanied with a glass of nice tasty "wonjo", the younger one took the conversation to another level, and asked all of us this question - is it that tough to keep a man?
My friend and I looked at each other; and we were like, Wow! What a question! Now it was time for storytelling, and it was agreed that everyone will say what she did to keep her man.
Trust me, when I say so, these are stories that you and I come across every day; but no matter what you read, don't be judgmental, because life is a crazy ride and nothing is guaranteed.
The older one said: "I was 15 years old when I met a man, who was 10 to 15 years older than me. Our meeting was not meant to be dating, love or romantic relationship, because I just kind of liked him.
"And as a teenager, during those days, I was very stubborn, pretty and confused; because puberty alone is confusing, and a stage when most of our questions that we raised are not answered or are half answered by our parents.
"Meeting this man was one of the best memories I will never erase from my memory as a child, then and now as an adult.
"He was a brother, mentor, friend and everything. I was his baby, and he nurtured and cared for me the way no one did before. So I was always in a haste for weekends, so that I could pay him a visit and, when I visit in the morning, I stayed there till 8pm at night, just me and him alone in his room.
"Being so attached to him and fond of him, I fell for him and it was real and he also reciprocated same for me. He did not molest me or exploit me sexually, and that alone made me go crazy about him.
"After sitting to my WASSCE, he disappeared out of my life, and the next thing I heard was that he is getting married, and that was the worst news of my life.
"So, for me, I don't care about keeping a man or looking for ways and means of making your way to a man's heart, since men don't value anyone, but themselves.
"But to answer your question, I will say relationships should be on a give and take basis, and in as much as you are trying your best looking for the fastest way to a man's heart, men should also be able to do the same for you.
"Men should not think that it is only women who should make a relationship work."
Well, you have heard what the oldest of all of them said, and it is like she was heartbroken and that was why she does not believe or interested in winning a man's heart.
"Well, it seems I am next, and if you asked me, I will say that men need to be pampered. I believe that anything one does or is into in this life, you have to enjoy it to the fullest. So a relationship between a man and a woman needs to be enjoyable. So, as a lady that is happily in a relationship, here are some of my tricks:
"Welcome him with a smile; men need to be welcomed with a smile. As a lady, don't smile because you have no choice; because a smile that is genuine is different from one that comes out of pretence.
"Make sure that every smile you give out is accompanied by enjoyment. This may sound crazy to you, but everything that you do in this life you have to enjoy it. When you smile, laugh, talk, walk, eat, hug, cry, are happy and even when you are sad and frustrated - because that is what you will use to make your life better.
"Communication: Don't wait for him to call or text you. Make an effort to call or text him and, when you want to send him a romantic text, don't use any love quotes from any GSM company. I am not saying that those love quotes are bad, but that is what is general to everybody.
"So, you are in love with your man, and you alone know what you feel for him; and remember what you feel for him is unique, and it belongs to only you. So create your own love quotes, take what you are feeling and how much you love him, and put it in writing and send it to him.
"He will become addicted to your text and will keep on requesting it every other day, because you are defining him.
"Stop going to restaurants and cook for him. In this 21st century, we all think that if your man did not go out with you to restaurants, he did not love you - which can be a very big mistake. Why not use the restaurant money and cook for him a delicious romantic meal!
"You don't have to tell him that you are cooking; just wait until it is time for him to close from work, and asked him to pass by for dinner.
"Imagine just you and him, eating together, feeding each other like babies accompanied by a romantic chat with lovely and gentle smiles. Trust me, when I say that there is nothing he would love more than being alone with you, and eating your food.
"Don't be busy for no reason. We know that as ladies, some of us are working under pressure at our various working environments. The only time your man can communicate with you is at night, when you close from work; so make sure you leave work at the office, and don't bring it to your home.
"Let her be given the chance of enjoying that hour or two talking to you on phone. If your man is as busy as you are, and understands that; and you spend the whole day without hearing each other's voice, the least you could do is to respect that time he could use to talk to you on the phone.
"No matter how busy you are, please just dedicate at least a day out of every week, for just you and him."
Read Other Articles In Article (Archive)