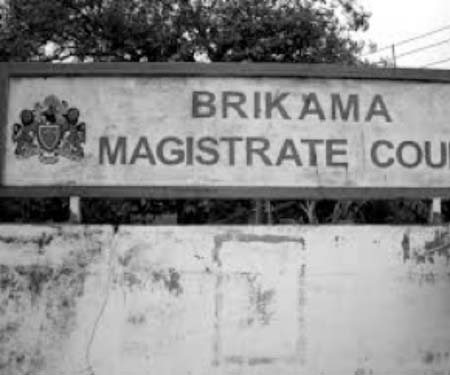 Thirty three youths from Kartong were yesterday discharged by the Brikama Magistrates' Court presided over by Principal Magistrate Hilary Abeke.
They were charged with five counts of conspiracy to commit a misdemeanour, prohibition of conduct conducive to a breach of the peace, causing reasonable fear to their neighbours which was likely to cause a breach of the peace, and notoriously assembled unlawfully and with force caused obstruction.
When the matter was called, the police prosecutors, Sub-inspector E. Sarr, Sub-inspector S. Camara and Sgt 2294 Jammeh, appeared for the IGP.
At that juncture, Sub-inspector E. Sarr, who said he had an application to make before the court, said that with or without all the accused persons present, they received instructions from their commander that the matter before the court should be withdrawn, but did not give any reason for the withdrawal.
He, therefore, applied under section 68 sub-section 1 of the CPC for the matter to be withdrawn from the court.
In response, defence counsel Lamin J. Darboe said he wanted to inform the court that he went to see his clients at Mile2 on Friday, but was denied access, and could only see 32 of his clients on Monday.
He said he was informed that one of his clients was at the Brikama Police Station.
In his ruling, Principal Magistrate Abeke told the court he had listened to both the prosecution and the defence counsel.
He said the accused persons were yet to arrive from the State Central Prisons remand wing, and that the prosecution made an application to withdraw the matter pursuant to section 68 sub-section 1 for him to withdraw the matter before the court.
Consequently, he granted the application and discharged all the accused persons.
Read Other Articles In Article (Archive)