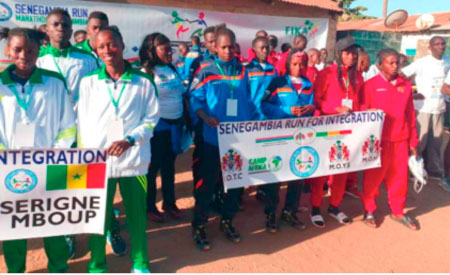 The second sedition of Senegambia Run for Integration, a road race from Banjul to Dakar have recently concluded in The Gambia. The run is initiated by George Gomez, a Gambian, founder and coordinator general of the event.

The Gambia Army female runner Nyima Colley started the run on a strong footing beating the field to the first changeover of the baton. The Senegalese army team Asfa then took over the lead just before the 2nd changeover and maintained it until the 5th changeover.
The 6th runner of Gambia Army closed the gap significantly before changing to the 7th runner who kept the momentum until the baton change point.
GAF held on to the lead until the final 10th baton change but unfortunately, The Gambia army No. 10 athlete started showing signs of injury and could not maintain the lead and he was overtaken by Asfa athlete just about 300 meters to the finish line.
Results and classification
Stage One:Barra to Kaolack (112 km)
Friday 17 Jan. 2020
1st AFSA (6h45'8)
2nd GAF (6h55'56)
3rd MOYS (7h38'49)
4th Mbour ( 8h21'47)
5th GRA (8h50'26)
Stage Two, Kaolack to Saly\Mbour (115 km)
Saturday 18 January 2020
1st AFSA ( 6h38'44)
2nd GAF (6h47'44)
3rd MOYS ( 7h26'38)
4th Mbour( 8h23'50)
5th GRA ( 9h07'39)
Stage ThreeSaly/Mbour to Dakar (97 km)
Sunday 19 January 2020
1st AFSA (5h35'58)
2nd GAF ( 5h37'22)
3rd MOYS (6h17'35)
4th Mbour (6h43'20)
5th GRA (6h52'54)
Overall results
1st AFSA (19h00'00)
2nd GAF (19h21'02)
3rd MOYS ( 21h23'02)
4th Mbour( 24h28'57)
5th GRA ( 24h50'58).
Read Other Articles In Article (Archive)