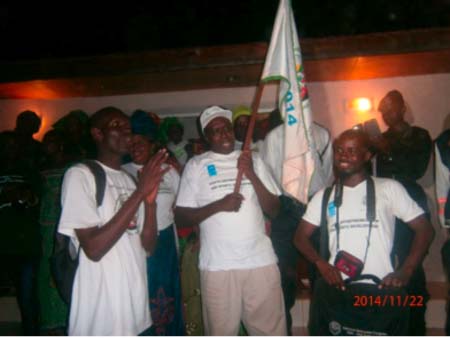 The 2014 NAYCONF flag was finally presented to the Governor of Lower River Region, the host of the 214 youth events.
The presentation, made at the weekend at the Pakaliba Bridge, the border of the two regions, CRR and LRR, was witnessed by the two governors, youths and community members.
The flag was presented by the Central River Region Governor, Omar Khan, and escorted by his delegates.
The presentation was led by the events' National Organizing Committee and members of the Ministry of Youth and Sports.
It could be recalled that this year's event will be conducted from 12 to 24 December at the Soma Primary School in the Lower River Region.
The flag was later escorted to the governor's residence in Mansakonko. Receiving the flag, LRR Governor Salieu Puye expressed delight at the honour, saying he would work hard for his region to make remarkable history in the upcoming biennial events.
He told the gathering his region would be fully prepared ahead of the event.
Regarding the preparation, Puye added that they are ready to host the NAYCONF competition, while his regional committee and youths would closely work together for the successful accomplishment of the events.
He thanked the president and his government for his foresight and support he has been rendering to the nation, particularly for the youth and the Ministry of Youth and Sports, the CRR governor for the support and positive collaboration.
He informed MOYS and its delegates that his region is fully preparing for the accomplishment of the events, while seeking more collaboration.
CRR Governor Omar Khan wished his brother and his region a successful NAYCONF celebration, saying he would like to meet Governor Pure towards the celebrations.
He said the significance of the celebration also geared towards bringing people together, which also serves as platform for young people to learn from each other's culture and education as well as to foster unity among them.
"All participants must unite as one family to get to know each other better," he advised, saying his region is fully prepared for the celebration.
Read Other Articles In Article (Archive)