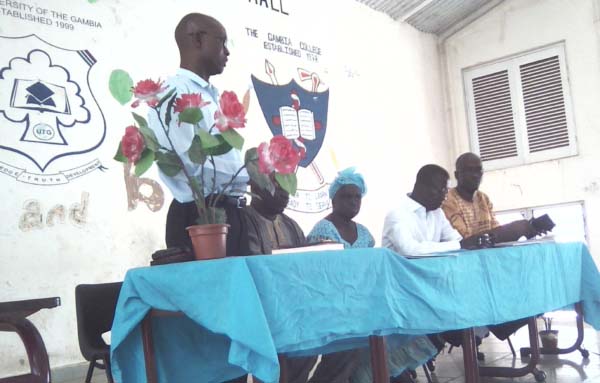 At least 200 educators recently concluded a three-day training on assessment design and choice, assessment data analysis, interpretation and use at the Gambia College in Brikama.
The initiative was organised by Gambia Teachers Union (GTU) with the support of UNESCO/NATCOM Paris office.
Essa Sowe, deputy general secretary of GTU, said the union values and promotes the provision of quality and relevant education for learners.
He said they believe that competent quality teachers are the most important resource in delivering wholesome education for social progress and sustainable development goals for economic growth.
"This is critically important to us at GTU as the leading advocate for professional development of teachers and educational workers," Mr Sowe said.
He explained that the leadership of GTU shall endeavour to among others enhance the professional capacities of teachers and other educational personnel, and the union leaders in areas such as curriculum development and innovation, assessment design and choice, and other necessary areas.
The GTU deputy general secretary noted that the challenges face by the education sector, particularly improving the quality of learner outcomes, continues to raise pertinent questions for both the school systems and the ministry.
Mr Sowe further explained that as the school system is grappling with the problems of increasing student and societal expectations, the education sector is struggling to provide the most ideal school environment that fosters innovation and matches the requirements of the school sector.
He pointed out that "the unprecedented decision" by the ministry in shifting emphasis from assessment of learning to assessment for learning is a major breakthrough and characterises bold thinking on the part of management.
Abubakarr Jallow, principal of Gambia College, said the three-day training will help change the landscape of how they assess students in the country due to the paradigm shift from assessment of learning to assessment for learning.
He said such assessment will help teachers to know the strength and weakness of their students.
The Gambia College principal said more than 200 educators were part of the training programme who are now expected to effectively implement the policy, protocol and principle that have been developed.
Ousman Senghore, head of assessment unit who also double as the senior programme officer at UNESCO/NATCOM, said the training is critical as assessment is very important.
He said they have developed 3 documents, namely: assessment policy, assessment protocol and assessment framework that will soon be sent to schools.
"The first document highlights the guiding principles of assessment within school system and some good pronouncement.The second one is practical tool that can be used directly by teachers and the third one will support teachers on how to monitor the right implementations of assessment," Mr Senghore said.
Read Other Articles In Article (Archive)