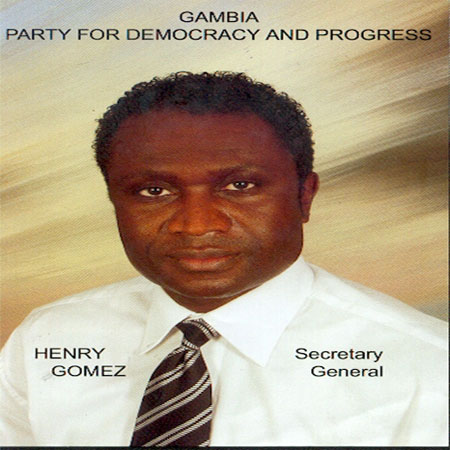 In less than twenty-four hours, The Gambia will clock 44. A tiny West African country with an estimated population of 1.5 million people, The Gambia will no doubt be in a celebratory mood.
Everything said and done, Gambia will now mark one of the most important days in the annals of its history.
It is a day when Gambians of courage and wisdom fought hard in freeing the country from white colonial rule; a day that, despite our political affiliations, should be seen as a moment to fashion out a national vision for what Gambia should be years from now. To be sure, 44 years is far too long a time for any accurate projections to be made and indeed any quantitative targets could end up far off the mark.
Mr Henry Gomez, leader of the opposition Gambia Peoples Democratic Party (GPDP) has said that the 44thanniversary of Gambia's independence should be seen as a day to remember great men of this country, whom he said, led this country to the end of colonial rule. Some prominent leaders surely were Pierre Sarr Njie, Gambia's first Prime Minister and leader of The United Party; Hon I B Garba-Jahumpa, leader of The Gambia Muslim Congress, Hon J C Faye, leader of the Democratic Party; and Dr. D K Jawara, leader of the Protectorate Peoples Party (later Progressive Peoples Party) under whose political leadership The Gambia finally attained Independence in 1965.
"Gambians should always remember the likes of Sir Dawda Kairaba Jawara and all the former ministers of the then PPP regime for bringing this country to where it is today by fighting hard for our independence", he said.
Mr Gomez, who was speaking to this paper yesterday, stated that the fact that Gambians are celebrating independence is as a result of the peace and tranquillity that this country has, and continues to enjoy. "We should all know that if we are standing today and celebrating our independence, it is because of the peace we have in this country. We should thus not give the devil the chance to break up that peace we are enjoying", he said, adding that where there is peace, there are always solutions to problems.
The GPDP leader also used the occasion to call on all Gambians irrespective of political affiliations to come all out and celebrate the day, saying that the day has nothing to do with politics but national pride.
Turning on to the issue of rape and kidnapping activities, which seem to be on the increase in the country, Mr Gomez said Gambians have to be jealous of their country. "We should all know whom we are living with in our homes, whom we are talking to, and what their footsteps are," he asserted.
According to Mr Gomez, Gambians never knew what kidnapping was, " but thanks to some non-Gambians and unscrupulous Gambians, the activity has become common in the country".
"We should not allow such people to see The Gambia as a criminal paradise, where they can do all sorts of criminal activities. We should not condone such acts", he said while commending the security forces for what he described as a job well done.
He said "We welcome everybody in this country, we love foreigners, but what we will not tolerate is for them to do what they would not do in their own countries".
Read Other Articles In Article (Archive)