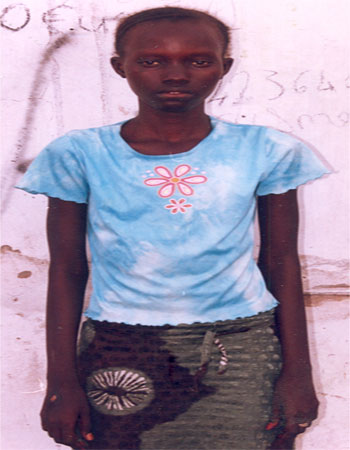 Awa Badjie, a 14 year old girl residing in Tallinding Kunjang, is currently seeking assistance in obtaining overseas treatment from anyone willing to give it.
According to the medical report issued by the Royal Victorian Teaching Hospital the girl was presented to the pediatric outpatient apartment in August 2006 after she experienced difficulty breathing, swelling of the legs, coughing, a sore throat and heart palpitations. The subsequent medical report reads as follows;
"On evaluation she (Awa) was noted to have a laud pansystic murmur of grade 4/6 maxiaml apically radiates all over the pericardium and back with faehyendia, [and a] tender hepatomegaly. She was faehypeve and had five basal crepitation.
The transthoracic echocardiography did show an enlargement of the left aurical with widening of the mitral leaflet and atoning of the anterior mitral leaflet. There was no septal defect the aorta was normal in position. The chest x-ray showed interstitial opacities bilaterally on the above clinical presentation and echocardiography. "
The report continues to reveal that after being treated in August the girl returned in October complaining of the same problems. After further medical tests doctors discovered that Awa is suffering from an advanced form of tuberculosis that has decimated her cardio-vascular system. In short the disease has ravaged the girl's breathing systems and because of this she is in urgent need of overseas medical attention. Since 2006 Awa has been taking Anti-tuberculosis drugs as well as steroids to alleviate her symptoms and going for monthly follow-ups at the Serrekunda Health Centre. Awa won't be able to obtain the medical attention she needs unless she goes overseas. The girl is in need of a cardial valcular replacement surgery according to her medical report, an operation that can only be done overseas.
Awa is seeking assistance from the government, philanthropists, and any individual with the ability to help to do so immediately. Those willing to help can do so by contacting either of these numbers 7081442 or 9808453
Read Other Articles In Article (Archive)