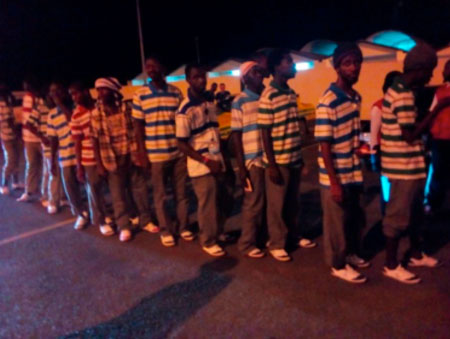 One hundred and thirty-six Gambian migrants in the early hours of Wednesday 16 August 2017 returned to The Gambia from Libya.

The returnees where received at the Banjul International Airport upon arrival by officials of the Ministry of Foreign Affairs, International Organisation for Migration, Gambia Immigration Department, Minister of Youth and Sports, red cross volunteers, young groups among others.
Ebrima Jobe, deputy Permanent Secretary at the Ministry of Foreign Affairs, said the returnees returned at their own will and were not deported neither forced to return.
He said 815 Gambian migrants had previously returned, adding that a good number of the returnees are traumatized as a result of the difficult moments they have experienced on their way to Libya and while in Libya and would need help.
Mr Jobe said that an EU-funded project in The Gambia in consultation with government has catered for young people and returnees, adding that some of the returnees will be trained with skills and given some amount of money to help them get back to their feet.
The two Libyan factions are trying to negotiate a solution to put an end to the back-way, he stated.
He advised young people that they should forsake their country because they feel it is a poor country.
He said he does not see much hope for the majority of Africans traveling to Europe.
EU countries are spending a lot of monies on migrants on their housing, feeding as well as their stipend, he said adding that there are about 26,000 undocumented Gambians migrants in Italy.
He advised young people to try to contribute to the development of the country in making it look like France or any other develop European country.
"People need to face reality and sacrifice to become something productive," he noted.
"Irregular migration is a concern and every family member and parent is affected as young people are no longer focusing on their education," he further said, adding that the reason behind taking the journey is no more about poverty but about curiosity.
Some Gambians want to get money without earning it, he said, adding that most well-off Gambians made it in The Gambia.
"You hardly see a homeless Gambian compared to other countries in the sub-region, therefore the need not to risk their lives on the journey," DPS Jobe said.
He also called on government to track down smugglers, and urged security officials on border posts to double their efforts and crackdown on acts of trafficking.
He also said that people need to be sensitised on the suffering migrants face while in Libya and shown graphic images and has invited returnees to reveal their ordeal.
He said both parents should always consent and sign an affidavit in the event one of them want to travel with their child to ensure he is she is not using the child as a bate to travel and apply for asylum.
Amadou Jawo, Liaison Officer in charge of Libya Affairs who also liaises with the Gambian Association in Libya, commended the association for "the great job they are doing for Gambian migrants in Libya".
Hon. Henry Gomez, Minister of Youth and Sports, said it was sad feeling receiving young people from such traumatic situation but on the other hand it was a happy feeling that they all returned home safely.
"As a youth minister I have to be with the youth during their hard and good times which is why I am here," he said, adding that he had a lengthy discussion with the returnees, showing them that President Barrow's government "will do all it can to support them to try to settle down as well as feel comfortable" as there is no place like home.
He appealed to all and sundry to join hands and work together because "The Gambia has changed and we all fought for the change".
He also appealed to all to give a helping hand to the returnees so they can reintegrate and restart life at home.
According to Minister Gomez, some of the returnees will be given opportunities of entrepreneurship, apprenticeship, among others so they can learn to get a profession through which they can survive.
Kawsu Jaiteh, 47, and a native of Kuloro in West Coast Region who travelled to Libya over two years ago through the back-way leaving his wife and four children behind, said he worked as a security guard and a farmer before venturing into the journey.
He said the left the sources of The Gambia with 600CFA and hustled for some money while in Senegal, Mali, Niger and Libya.
"Libyans are now bankrupt and are surviving on migrants," he said, adding that he had seen people being killed for not being able to pay monies demanded from them.
Jaiteh said that last year he was detained for 6 months because he was sold and couldn't pay the money the agents demanded, but added that his family finally paid and he was released.
According to him, he paid 4 times for the boat to cross to Italy and was always captured and returned to Libya.
He advised young people to desist from taking the journey and rather find a way out to make it in the Gambia, saying that all of them that left regretted venturing into the journey but are also fortunate to have returned with some skills.
He called on government to support them, saying he intends to venture into business now that he has returned and would continue to work hard to earn a living like he used to do before leaving.
He admitted that it was difficult for him to communicate with his family back in The Gambia.
Jaiteh blamed "our Gambian brothers working as agents in Libya and in The Gambia" as the biggest obstacle as they deal with Libyan agents.
For stance, he said, "when Libyan agents demand 3500 Dinar from migrants our Gambian brothers working with them will jack the fee up to get something from it".
According to him, "Gambians detained in Libya are more than those that have returned and this is as a result of our Gambian brothers (agents) who should help us but are the ones making it difficult just because of money."
Abdoulie Bojang, a resident of Bundung and another returnee, said he left The Gambia at the end of 2015 but said "Libya is very hard", adding that Libyan prisons are filled with Gambians.
"There are certain prisoners in Libya if you are detained there, they only give you half bread every 24 hours," Bojang narrated, saying people die in prisons on a daily basis (Gambians included.)
He further explained that his friend he used to share the same bed with was dropped off the boat at the last minute before they departed for The Gambia, and appealed to government to help facilitate the return of Gambians in Libya in the soonest possible time as they are seriously suffering there.
"While in Libya even to go to the shop you have to sneak out, as there are people with guns waiting for migrants to go out and they kill you," he went on.
He also explained that he was detained more than 5 times while in Libya with his family spending huge amounts of money to facilitate his release, and therefore thanked them.
He advised young people to find other options of making a better life and never think of venturing into the back-way journey.
Read Other Articles In Article (Archive)