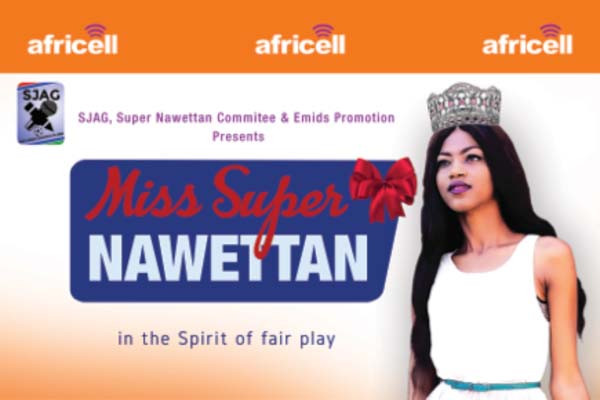 Organised by Sports Journalists' Association of The Gambia in partnership with the Super Nawettan Organising Committee and Emids Promotion, the competition brings together twelve zones in what is whispered as a pre-ending of the 2016 super nawettan championship when 12 beauty queens assemble at Jakarlo to contest for the queen's crown.

Visualised by SJAG to boost popularity, the12 participating zones will each present a single contestant each for this much-talked about Miss Super Nawettan event set to go down the wire on Thursday 27 October @ Jakarlo (former Spy Baa) in Senegambia.
In an exciting evening ahead, the Miss Super Nawettan organization gives the impression of being the nation's leading beauty pageant programmes for young women.
With preparations ongoing, tickets will only be sold D200 at the gate when it commences late on the evening, less than 24hrs before the super nawettan football championship finale at the Independence Stadium on Friday 28 October.
Beauty pageantry reinforces the idea that young women should be valued primarily for their physical appearance, and that this puts tremendous pressure on women to conform to conventional beauty standards by spending time and money of course on fashion, cosmetics, and hair styling.
And thus the contesting beauty queens from Bakau, Brikama, Banjul, Brufut, Gunjur, Lamin, Manjai, BEM, Sukuta, SK East, West and Central are also no exception to that impression.
Maiden Miss Super Nawettan 2016 at Jakarlo this Thursday; brings you 12 zones in 12 Beauty Queens, to search for 1 Winner.
Read Other Articles In Article (Archive)