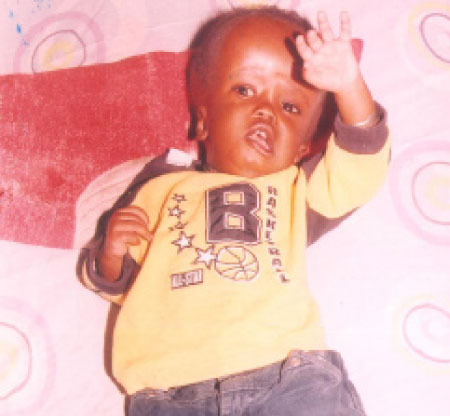 Saikou Saidykhan, an eleven-month-old baby, is in dire need of support from individuals and organisations within and outside The Gambia to undergo overseas treatment.
According to his father, Foday Saidykhan, the patient "is in a very serious condition".
Meanwhile, according to a medical report issued by the Royal Victoria Teaching Hospital (RVTH), "Saikou presented to the paediatric neurology clinic on 17 November 2011 with a history of a progressive enlargement of his head. On evaluation, he was macrocephalic with enlarged scalp veins and a transillanurable cranium, but was systemically stable," according to his medical report.
It added: "Features depicted at a transfontanel ultrasound such as grossly dilated cerebral ventricles with huge fluid collections indicative of hydrocephalus were evaluated further and clarified at a contemperonwous craniofacial computer assisted tomographic scan, which revealed cystic malformation of the posterior fossa, absence of the cerebellar vermis, causing communication between the fourth ventricle and cistern magna. A left cerebellar hypolasia was noted, a marked sypratentorial hydrocephalus was revealed causing thinning of the cortical mantle, which measured 5cm in both frontal lobes which were features consistent with a congenital malformation likely a Dandy Walker malformation variant."
"Given this diagnosis, Saikou will need to undergo further advanced neuroimaging with a magnetic resonance imaging for a more lucid delineation, of the associated cytoarchitectonics to direct further specific interventions following an initial salvage ventriculo-peritoneal shunt surgery," the report further stated.
"He will need to proceed elsewhere overseas to achieve this," concluded the report.
 Meanwhile, anyone willing to help Saikou Saidykhan can contact his father on +220 - 6283898, 3526093, 7733613 or 6733613.
Read Other Articles In Article (Archive)