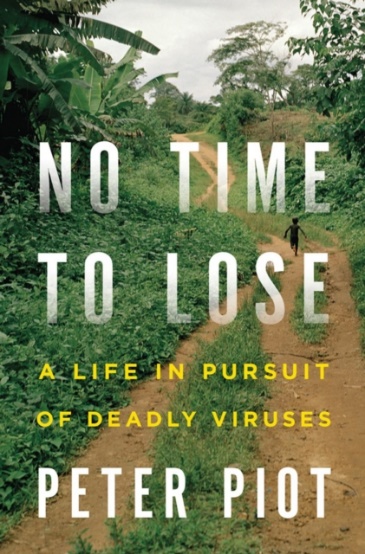 When Peter Piot was in medical school, a professor warned, "There's no future in infectious diseases. They've all been solved." Fortunately, Piot ignored him, and the result has been an exceptional, adventure-filled career. The professor couldn't have been more wrong: Piot has led ground-breaking research into Ebola, HIV and now Covid-19. Indeed he himself was hospitalised with Covid-19 last year, and he writes after this experience: 'I have always had great respect for viruses, and that has not diminished'. He is currently the director of the London School of Hygiene and Tropical Medicine, a name that many Gambians will recognise as the institution that the Medical Research Council (MRC) belongs to.
What started as a mysterious virus delivered to his laboratory in Belgium in 1976 led to his first trip to Africa to pursue what later became known as Ebola. Before he knew it, Piot was partnering with scientists in Africa to investigate other infectious diseases, including sexually transmitted infections, positioning him well for when AIDS began chipping away at the continent in the early 1980s. He was at the forefront of efforts to unravel what quickly became the newest and fastest growing pandemic. Translating his scientific prowess into bureaucratic-ease, a decade later, Piot helped bring together 10 United Nations agencies to form UNAIDS, the Joint United Nations Programme on HIV/AIDS. UNAIDS was the first UN agency dedicated solely to working on fighting one disease. He led the agency for 14 years (1994-2008).
"No Time to Lose…" isn't just about the laboratories and boardrooms that Piot was able to grace during his career. As he describes, his relationship with truck drivers and heads of state, physicians and patients, and commercial sex workers and advocates is what pushed him to keep fighting, learning, fundraising, and advocating for those affected with infectious diseases for more than thirty years. These relationships still drive him, and this book is as much a reflection of his career in global health as it is an expression of his respect for the people who have been most affected around the world.
Piot's book is not just a clinical review of infectious diseases – in fact, in the context of his narrative, Ebola or HIV & AIDS could have gone by any other name. What matters – and where Piot devotes much of his prose – is the impact that these diseases have had on the fabric of societies, and how the themes of poverty, family and governance radiate throughout all of their (and our) lives. He was able to connect the science uncovered in the laboratories with the faces of the patients he saw in clinics from Brussels to Kinshasa – and throughout the world. Perhaps most importantly, his book brings these stories to the world leaders he lobbied for so many years to do more to advance efforts to fight HIV & AIDS in their countries. He was not always successful at moving them towards action, but he always tried. And his persistence is palpable through the pages.
I first saw Peter Piot in a nightclub in Rio during the International AIDS Society conference of 2005. As a self-proclaimed "public health nerd," it was practically a celebrity sighting to see such an esteemed man dancing with the rest of us mere mortals. The results of a successful male circumcision trial in South Africa had been released that day and there was buzz in the air about this highly efficacious prevention intervention. It felt good to take a deep breath and celebrate a win for once.
One of my favorite quotes from Piot, as he describes AIDS, is, "This time, I knew, we were looking at the worst epidemic I could imagine, the greatest assailant I would ever face, something that would absorb all the energy that I could throw at it, and far more. In my mother tongue, Dutch, I wrote in my notebook: Incredible. A catastrophe for Africa. This is what I want to work on. It will change everything."
No Time to Lose captures the urgency and excitement of being on the front lines in the fight against today's deadliest diseases. A lot of progress has been made since that catastrophe first started 30 years ago. We are now – hopefully – on a path towards creating an AIDS-free generation. We can reflect on where we have been and how far we have come, but must also remember to keep moving towards our goal with a sense that there is 'no time to lose.'
Available at Timbooktoo tel 4494345
Read Other Articles In Book Review