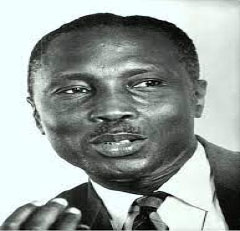 The Very Rev. John Colley Faye; by Patience Sonko-Godwin, Sunrise Publishers, Banjul, 2021, 224 pages.
This is the first, and indeed a revealing biography by The Gambia's veteran historian and author Ms. Patience Sonko-Godwin. As her sixth book, this biography overshadowed all her other works in profundity, depth and scope. More so, the main hero had lived such a varied and colourful life of service to The Gambia as a colony, a newly independent state and as a Republic that it is virtually a formidable task to render his life in a simple book however voluminous. But Ms. Sonko- Godwin has had a very commendable attempt at it; the book is exhaustively researched and is in evidence not only in its sheer heft of over 200 pages, but in the glossary, endnotes, references and even the index. These very accoutrements of the book are enough to give it a clean bill of health as far as depth of research is concerned. The author has used primary and secondary sources to good effect to bring out the refreshingly inspiring life of Rev. J.C Faye, as an educationist, lexicographer of Wollof, political leader, trade unionist, diplomat and church man and a family man.
To affect the riveting tapestry to the reader's attention, Ms. Sonko-Godwin addresses the salient character traits of Rev. Faye, the Gambian icon in contexts that exhibit his humanity, selflessness and sacrifices he made, in his relenting efforts to be of service to all.
Ms. Sonko-Godwin divides the book into 11 chapters according to chronology, with a glossary, a detailed bibliography and index. She takes a year by year scope of the life and times of this accomplished Gambian, at least from chapter 5 onwards. Chapters 1 to 4 give a much needed context to the life times of Rev J.C Faye. Context enriches any historical narrative as it gives the environment or circumstances in which, in this case, the historical figure operated in. The author in chapter 1 (pages 2-3) takes us through history of the church in the Gambia starting from the 15th century, migration into and peopling of Bathurst, the capital (page 7-8) and the early European presence in what became the colony.
In chapters 2 and 3, the author traces the rise of Western education in the colony starting from the 1820s largely by missionaries who came in the wake of the occupation of Bathurst on St. Mary's Island in 1816. The author however juxtaposes this explanation of the rise of the mission schools with the early education of Rev Faye himself at the Methodist Boys High School (pages,12-13), opened in 1875 but had its permanent building opened in 1921. 'the young Faye proved to be a hardworking student', and at the tender age of 16 in 1924, he passed the 'coveted Junior Cambridge Examination'. This began his long career in education as a learner, teacher and school administrator following scholarship in the United Kingdom etc.
In chapter 3, the author describes the establishment of the Anglican Diocese of The Gambia and the very active role that Rev Faye played in this episode in Gambian history. Starting with Rev Faye's pioneering role as in charge of the House of Transfiguration from 1937, a sort of boarding school for boys which later morphed into the Kristikunda School in the Upper River in 1942. Kristikunda gets a lot of deserved mention in this book (pages 35, 36 etc.)This is so because it was a bold attempt led by Rev. Faye to influence Gambian youth in learning and using their hands to earn their bread! Indeed, so successful was the Kristikunda School that it produced many high profile Gambians including ministers of government such as the long serving Vice President of the First Republic, Assan Musa Camara. Kristikunda was a school, a mission and a farm! (pages, 46-48).
In chapters 5 and 6, the author narrates how Rev Faye spent his time at Kristikunda from 1942 to 1947; he moulded young minds into better citizens, and also endeared himself to the people of the Upper River Division (URD) such that he was seen as one of them (pages 65-66). 'The people of URD recognized and greatly appreciated the help, energy and concern … of Rev. Faye', and this turned into political capital for him.
In 1947, Rev. Faye was nominated by the people of URD to 'represent them in the Legislative Council' after a new constitution was promulgated that extended political representation. Here the URD have adopted a son who came to them as a servant and was so loved and trusted that they put their political hopes on him. It was the URD which catapulted Rev Faye into the next life of his: politics.
By 1951, he formed our first political party, the Gambia Democratic Party, kick starting Gambia's rich history of party politics (page 107). He won a seat in Bathurst in 1951 for the Legislative Council and was re-elected in 1954. Between 1952 and 1960, he was one of three Gambians Ministers, here also setting a record!
The book also shines light into the huge network of political contacts that Rev Faye built with other African nationalist leaders like Kamuzu Banda of Nyasaland, now Malawi; whom he first met at the 1948 African Conference in London; Kwame Nkrumah of Ghana and Azikwe of Nigeria. He used these solid international contacts to strengthen his politics of decolonization. His strong work in the National Congress of British West Africa (NCBWA), the foremost nationalist movement in British West Africa is also noted (page 105).
Rev Faye had a successful career as a diplomat, representing Gambia in the United Kingdom from 1963-1964, and also as a trade unionist, helping to found the Gambia Teachers Union in 1937. His role in promoting and valorizing the Wollof language as a lexicographer and speaker of this language is also noted in this book. The last pages of the book are aptly dedicated to his brilliant work in the church, especially during the 1970s onwards when he had abandoned active politics to the younger generation.
Faye was a full patriot. This book bring out to the fore and in accessible language, his rich trajectory as a Gambian teacher, church man, diplomat, linguist and political leader whose every step has helped to enrich our country's journey into full nationhood.
This book is highly recommended. The author has done a good service to Gambian scholarship worth commending.
Available at Timbooktoo, tel 4494345
Read Other Articles In Book Review