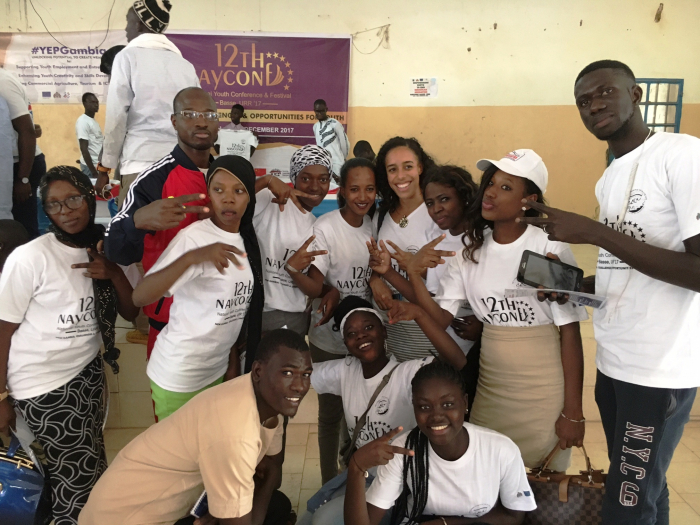 Minister of Youth and Sports Bakary .Y. Badjie has said that young people are the drivers of change and their role in the maintenance of peace and stability of the country cannot be over emphasised.
He challenged youth leaders to talk to their fellow young people to fully participate in the coming electoral cycle of the country.
He said young people play an important role in the electoral process, not only by voting but also participate in party politics.
''As youth leaders please let's encourage our youth to register and as well vote during the coming elections," minister Badjie said.
"The development of this country is our collective responsibility and our role as young people is key", he added.
In a separate development, the Youth Empowerment Project (YEP) of the EU Emergency Trust Fund for Africa joined forces with the National Association of Co-Operative Credit Unions of The Gambia (NACCUG) to boost financing support for young grassroots entrepreneurs in the country.
The Youth Empowerment Project (YEP) has already trained close to 1000 youths, supported 200 young entrepreneurs in The Gambia.
The Mini-Grant Scheme will complement the training efforts with much needed financial support to young entrepreneurs to get their businesses off the ground.
The scheme will provide funds for Gambian young entrepreneurs with a solid business plan.
In order to foster entrepreneurship, the Mini-Grant Scheme will facilitate acquisition of equipment, materials, and licenses and other business critical inputs and assets for start-ups or small scale businesses.
In January 2018, NACCUG will receive applications of interested youth and select grantees based on their proposed business plans.
Besides the grant, which is up to GMD 47,000, grantees will receive coaching and financial literacy training to improve their capacity to save, exercise financial planning and separate their private funds from the funds of the business.
They will also participate in annual experience sharing events to communicate results, success stories and best practices of the mini-grant scheme.
The mini-grant scheme aims at complementing other components of the YEP project to create an enabling environment for young entrepreneurs and small businesses.
NACCUG, the apex body for all credit unions in The Gambia, was formed in 1991, aimed at promoting and supporting the development of viable Credit Unions through sound and market-based business strategies.
It works to develop and make available the best financial and non-financial services to its members at reasonable cost and to fight poverty as a model financial co-operative.
The initiative is also aimed at supporting young entrepreneurs in The Gambia.
Read Other Articles In Youth Forum