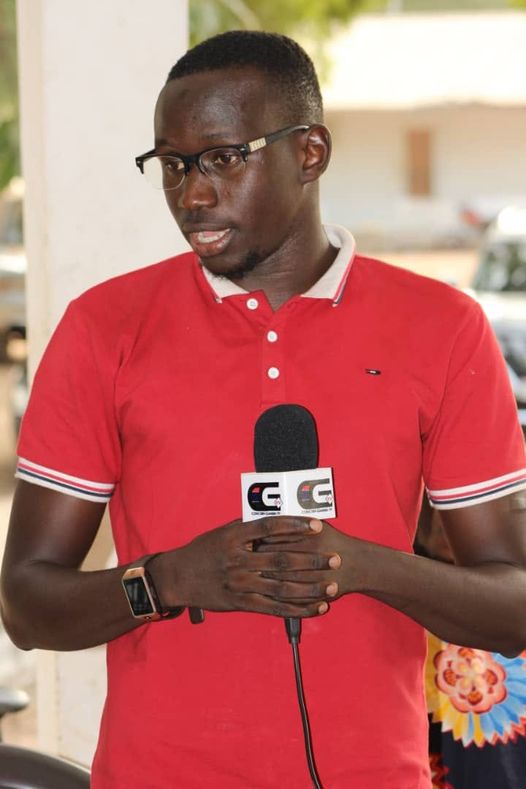 Bubacarr Sidibeh, the Chairman of Upper River Regional Youth Committee is an industrious young man in the field of youth work. Sidibeh represents the youth of URR at the NYC Board.
Because of his quest to serving the nation, Sidibeh enrolled at the Gambia College where he pursued his Diploma in Education, before that, he attended Nasir Ahmadiyya Muslim Senior Secondary School and graduated with flying colours.
Currently, the young energetic Chairman is a student of International Open University where he's pursuing a Bachelors Degree in Business Administration.
Following his election to the Office of the Chairperson of the URR Youth Committee, the young man is resolute towards strengthening the voice of the youth in the Basse Region. Passionate about activism Sidibeh has served so many organisations within his jurisdiction and beyond. This has made him conversant with youth work.
Among so many organisations, he served as Chairperson, Fulladu East District Youth Committee, President, Kansala Youth Association. As activists without boundaries, Sidibeh served as Country Coordinator, International Youth Summit (IYS) 2020.
Currently, he serves as Regional Treasurer, The Gambia Youth Chamber of Commerce, URR Chapter 2.
He is Founder/Manager of Power Electrical Satellite Solar and Supply Installations PESSSI.
Sidibeh is determined to propelling the affairs of the youth of his region.
As the Chairman of the URR representing the young people is something that the Basse man cherished.
We believe that the young man has a lot to offer.
Meanwhile, Gambia's youth delegation who recently returned from International Youth Diplomacy Conference in Ghana had carried almost all the trophies home.
The 2021 conference is an innovation of the Model United Nations Conference that brings together youth from across Africa to discuss pertinent issues of global interest.
The Ministry of Youth and Sports through the National Youth Council supported many of the Gambia delegations to the conference.
The delegation headed by Isatou Secka, Chairperson, Kanifing Municipality presented the awards to the Chairman and Executive Director, NYC.
Alagie Jarju, Executive Director, congratulated the team for the monumental achievement.
He assured them of his office's continuous support and further urged them to be committed to the development of the country.
The Awards in the archives include:
Most Organised Country
Global night Award
F.A.O Committee - Best Delegate
WHO Committee - Best Delegate
WHO Committee- Best Dress
Security Council Committee - Best Delegate
Security Council Committee - Best position paper
Soccum Committee - Best Delegate
Soccum Committee- Most Mentioned
Best Country Rep.
Source-NYC
Read Other Articles In Youth Forum