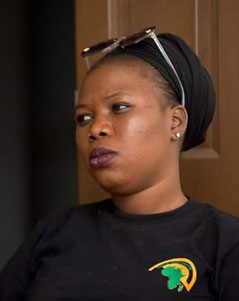 Isatou M. Secka, a young female activist and social justice advocate is currently the Chairperson of the Kanifing Municipal Youth Committee (KMYC) representing the youth of Kanifing at National Youth Council (NYC) board.
Isatou graduated from St. Joseph's Senior Secondary School before enrolling at the Gambia Technical Training Institute (GTTI) and Management Development institute where she bagged level 4 in Chartered Institute for Procurement and Supply Management.
To further broaden her experience in the arena of activism and social work.
Isatou is currently studying Social Work at the SOS Mother and Adult training centre.
Isatou has broken the chains of history to become the first female chairperson of Kanifing Municipal Youth Committee and the entire country to serve as a board member at the National Youth council.
This she gained because of her knowledge and experience in youth work.
Thus she has risen through the rank and files of the Council ladder; From constituency level to the Municipal level.
Isatou is not an amateur in activism, she served many youth organization within and outside the country; first as Admin and Finance Assistant, African Youth Commission; Innovators Spaces, as the Project Field Coordinator for the Standing4Youth initiative program.
She has also been a Humanitarian Worker with the Gambia Red Cross Society and others.
At this point she serves as President of West African Network of Young Female Leaders (ROAJELF) Gambia Chapter, The Public Relation and Media officer of ECOWAS Citizens in the Gambia, Gender Focal Person of KM Red Cross Branch, Member of the Technical Working Group on Peace and Security in the Gambia and Member of the Gender Platform in the Gambia and Representing young Female Leaders in the ROAJELF Africa.
Isatou is a human encyclopedia when it comes to youth work; her background in gender and reproductive health, leadership skills and communication has given her an edge over so many of her folks.
Source-National Youth Council
Read Other Articles In Youth Forum