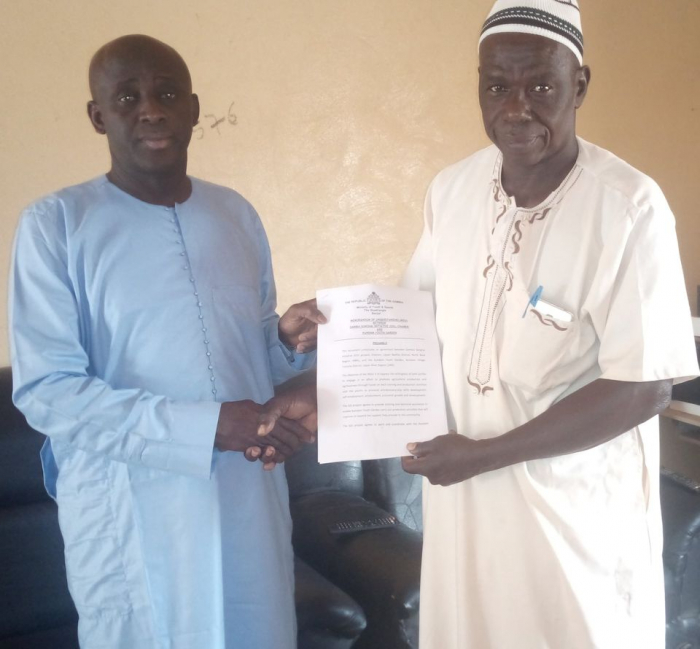 The Deputy Permanent Secretary Finance and Administration, Lamin A. Camara recently presided over the signing of the Memorandum of Understanding (MOU) between Gambia Songhai Initiative (GSI) project Chamen and Kundam Youth Garden in the Upper River Region.
The objective of the Memorandum of Understanding (MOU) is to express the willingness of parties to engage in promoting agricultural production and agribusiness through hands-on desk training and production activities with youths to promote entrepreneurship skills development, self-employment, economic growth and development.
The Gambia Songhai Initiative (GSI) Project is designed to tackle the growing youth unemployment and increasing poverty among rural populations of The Gambia.
It is also developed against the growing need of transforming the agricultural sector into a productive, efficient, sustainable and remunerative enterprise; especially among youth.
The Ministry of Youth and Sports under the leadership of Honourable Bakary Y. Badjie donated two sets of football jerseys, Football net, volleyball net amongst other sporting materials to the students of Gambia Songhai Initiative centre in Chamen Upper Baddibou at a presentation ceremony held at the Centre.
Presenting the items on behalf of the Minister of Youth and Sports, Mr Lamin A. Camara said the items are in line with the ministry objectives to promote grassroots sports that would enable young people to showcase their talents in sporting activities and it will also discourage irregular migration.
He said the ministry is working intensively to ensure that the development, promotion, and regulations of youths are guided by its policy and strategy.
Kebba Lang Camara, Centre Manager expressed heartfelt gratitude and thanked the ministry for the gesture.
He acknowledged that the initiative could not have come at a better time as the people in the centre are eager to get these sporting material.
The centre manager says the items will be made into good use as its ease.
Other speakers expressed similar sentiment commending the ministry for the support and encouragement to the young people of the Gambia.
In a similar development, the minister of Youth and Sports Bakary Y. Badjie and his team of technician's visited Kundam Youth Farm in the Upper River Region to get first hand information on the progress made and challenges faced by the farm.
The Minister and team were taken on a conducted tour of the farm by Amadou Manneh, Operator and Secretary to the farm.
The Farm operators identified some challenges including Water Supply, Marketing, Storage facility and accommodation for the young people working at the farm.
They also appealed to the Ministry to build a skills centre to enable to them trained and accommodate more young people.
Read Other Articles In Youth Forum