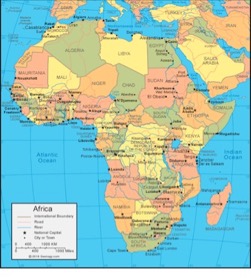 The report unpacks youth narratives about Pan-Africanism and continental integration.
It found that most young Africans are optimistic about the continent and eager to experience it for business and pleasure, but North Africa's don't feel connected to the rest of the continent.
Africa No Filter interviewed 4500 people aged 18 and 35 to find out what they think about their identity, the type of stories that shape their perception of Africa, and their views on professional and business relationships with other Africans.
The research was done in Egypt, Morocco, Ghana, Ivory Coast, Nigeria, Kenya, Uganda, South Africa and Zimbabwe.
Here are key findings from the report:
'One Africa' is a sub-Saharan concept: There were regional differences between North Africa and the rest of the continent. Respondents from West, East, and Southern Africa had a much higher affinity with the concept of being African, especially those from Ivory Coast (94%) and Uganda (93%).
Knowledge of other countries is high: 82% of young Africans felt they knew the continent somewhat well or very well, 69% said they know the continent moderately well, and 13% said they know it well. Regionally, 53% of North Africans considered themselves to have a moderate knowledge of the continent.
Desire to travel within the continent is high in sub-Saharan Africa: Even though only 31% of respondents in sub-Saharan Africa had travelled to another African country, 61% said they are interested in exploring Africa but 57% said it's too expensive.
Positive stories dominate East Africa:57% of East Africans mostly heard positive stories about other African countries, especially that they are open and welcoming to visitors and offer many economic opportunities. Across the survey, 67% heard that neighbouring countries are friendly and open to other Africans, and 49% heard positive stories about the economic opportunities in neighbouring African countries.
Stories about corruption dominate West and Southern Africa:Respondents from West and Southern Africa (40%) reported negative stories about other African countries – especially that corruption was high (54%), little development (40%), and that other countries are xenophobic and unwelcoming (45%)
Young Africans are interested in personal relationships with each other: Across the survey, 71% of respondents were open to marriage or romantic relationships from a different ethnicity or tribe but only 49% of North Africans responded positively, with 96% of Egyptians saying they'd never marry other ethnicities. Men (73%) and the 18 - 24 age group (77%) were more open to intermarriage than women (69%) and the 25 - 35 age group (68%).
Xenophobia is reported as being quite low:Despite other studies highlighting xenophobia in many African countries, our study found that about 70% of respondents had a positive attitude towards people from elsewhere in Africa living in their country. Interestingly, since xenophobia is generally considered a problem in South Africa, 62% of respondents had positive views about Africans from other countries.
Low trust in politicians as sources of reliable information: 15% of participants relied on politicians for accurate information, 52% got their information from social media, 41% from newspapers and radio, 39% from TV, books, friends and community.
Source-Africa Youth news
Read Other Articles In Youth Forum