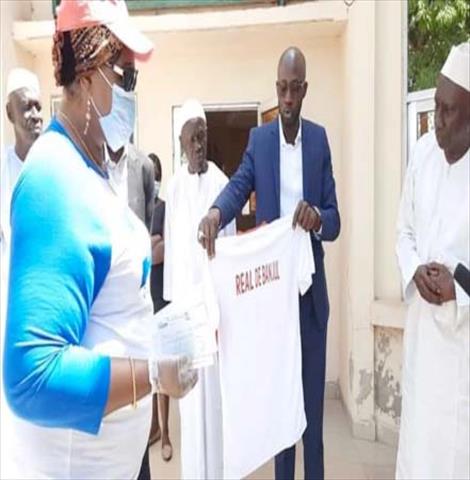 Monday, March 30, 2020
Gambia Football Federation (GFF) division one leaders Real De Banjul FC have joined the trail in the fight against Coronavirus.
Real is reported to be the first domestic club to show support in the fight against the global pandemic following Gambia's first reported case of the infection.
The capital based side donated fifty thousand dalasis to the Banjul City Council (BCC) at a ceremony held at the Council last week.
The amount according to Officials is meant to help the BCC in their fight against the spread of the Coronavirus.
Second-vice president of Real De Banjul Alhagie Bakary K Jammeh said the gesture is to support the BCC in their awareness campaign to stop the spread of the Covid-19.
"We are here to support the Mayoress and her council to tackle this pandemic.
Real De Banjul is the oldest club in the country and we deemed it necessary to come and show solidarity with the council in these difficult times." Jammeh noted.
Receiving the donation, Lord Mayoress Rohey Malick Lowe lauded Real De Banjul's donation describing it as historic.
She thanked the twelve times league champions Real De Banjul for the donation and assured them of putting the money into its rightful purpose.
Lowe called on all to follow the guidelines of World Health Organisation (WHO) and the ministry of Health against the Covid19.
Source-GFF
Read Other Articles In Sports