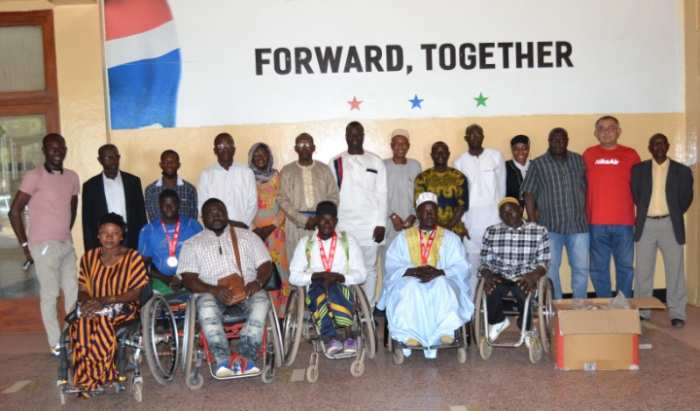 As part of the courtesy call, The Gambia Paralympics athletes and powerlifting teams presented their medals to the minister of Youth and Sports after their brilliant performance at the Paralympics Athletics championship hosted in Tunisia and Powerlifting World Cup held in Manchester, England.
Head coach of The Gambia Powerlifting team, Hagie Drammeh, said powerlifter Modou Gamo finished fourth during the Manchester Powerlifting world cup, adding that he is qualified for the Georgia and Dubai qualifiers.
Drammeh stated that this has been the best year for Para sports since its inception and thanked all those who supported them.
He informed Minister Badjie that because of their recent success there were individuals from other associations trying to bring chaos into their association which they did not need.
He further stated that they are open to anyone who wants to develop disability sports but will not allow people to use the back door.
He noted that what they need is partnership, saying their doors are also open to all persons with disabilities across the country.
Abdoulie Danso, The Gambia National Paralympics Committee (GNPC) athletics coach, said they registered success despite several challenges going into the Para Athletics Championship; such as lack of financial support and standard wheelchairs.
Coach Danso called on the Youth and Sports minister to help them with standard equipment to register more success for the country.
Demba Jarju, an athlete, said they will continue to work hard to bring more success to the country.
Minister of Youth and Sports, Bakary Y. Badjie, said the athletes did not only represent The Gambia but also made Gambian proud while encouraging them to do more for the country.
Minister Badjie stated that his ministry's interest is to make sure sports develop in the country and also ensure young people are supported.
He told the association that if they receive their requests for support on time they would always do what they can.
Commenting on those who wanted to cause chaos within Para sports, Minister Badjie urged Paralympics Association to associate themselves with success.
"The National Sports Council will never register a parallel association claiming to be Paralympics", Minister Badjie assured the team.
He urged the association to open up to those who want to work with them for greater success.
Minister Badjie stated that to achieve results in sports they must invest, saying they are willing to invest within their financial ability.
Read Other Articles In Sports