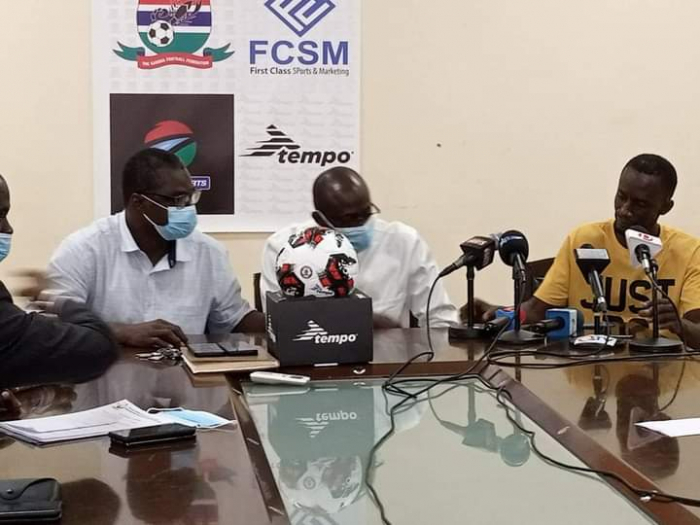 This partnership will now see the country's football federation (GFF) use new balls amounting to 1000 going for three years.
The new balls acquired by GFF have a year guarantee for each ball. The balls are also approved by FIFA.
Lamin Kaba Bajo, president of The Gambia Football Federation, said the partnership is going to save them some good amount of money and as well help them have more balls for the leagues.
He encouraged Scorpions midfielder, Ebrima Sohna to continue what he is doing and assured him of his federation's support and commitment in the partnership.
The GFF president called other Scorpions players both past and present to emulate Ebrima Sohna in assisting the federation in any way they can.
The representative of Tempo Sports in the country, Ebrima Sohna said as a footballer, it is an honuor to play for your country, but more importantly to give back.
"It is always important to support your country and especially the football federation. It is not only by saying it but trying to create something which would show that you are giving them something," he said.
He added that: "Everyone can say that they want to do something for their country or for the federation, but it's very important to start by creating something to make people believe in what you are saying."
He expressed his intention to continue assisting the GFF in any way he can.
He thanked GFF for accepting to partner with Tempo Sports for the development of Gambian leagues.
Bakary K. Jammeh, 1st vice president of GFF, said football cannot be played without good footballs and grounds.
"Over the years, the Gambia Football Federation has spent a lot of money in procuring football and other equipment. This is why when the opportunity comes, we diligently work towards achieving the objective of entering into a long term partnership with a quality equipment producer like Tempo," he said. He described the partnership as mutually beneficially to both parties.
Ebou Faye, 2nd vice president of the GFF, said the partnership will immensely improve football in the country.
According to him, over the years, they have been struggling with the use of different balls, adding that the agreement would also help players play with quality balls.
"We are also embarking on rehabilitating and building new infrastructure and will complete the process of making sure that good football will be played throughout the country," he concluded.
Read Other Articles In Sports