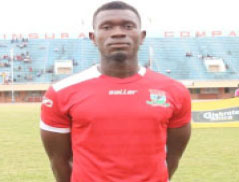 The club described the signing of Julaba Sawaneh as unique.
The former Gambia Armed Forces FC who signed a one year deal reunites with his former Coach Ebou Jarra.
"This signing sees Julaba Sawaneh reunited with his former coach Ebou Jarra, the tactician at Gamtel/Gamcel Football Club, the Telecommunication Giants," the club said.
Julaba Sawaneh on his farewell message to GAF FC said: "I sincerely take this opportunity to thank GAF FC management, technical team, players and supporters for the cordial relationship during my time with the club. I also wish GAF FC well in all its future endeavours and continuous success In Sha Allah."
Read Other Articles In Sports