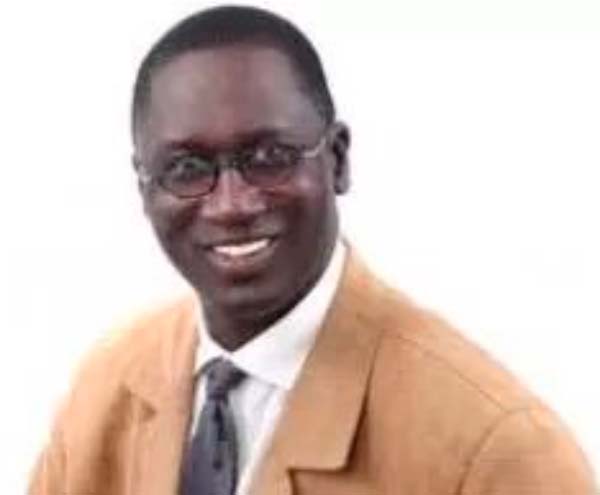 WE ALL COME INTO THIS WORLD FOR A PURPOSE. MOST OF US ARE DRIVEN BY PURPOSE AND A SENSE OF PASSION TO LIVE THE DREAM OF ATTAINING OUR GOALS IN OUR LIVE TIME. EBOU WAGGEH WAS FORTUNATE AND BLESSED TO HAVE LIVED HIS DREAM. HE REACHED THE PINNACLE OF HIS CAREER IN JOURNALISM AND FILM MAKING BEFORE HIS DEMISE. HE WAS A PIONEER IN ESTABLISHING FILM MAKING AND PHOTO JOURNALISM IN THE GAMBIA. HE WAS PASSIONATE AND SELFLESS IN SHARING HIS KNOWLEDGE AND EXPERIENCE WITH EVERYONE INTERESTED IN HIS FIELD. HIS COLLEAGUES, WHOM WE ALSO PAY HOMAGE TO, HAVE WRITTEN AND EXPRESSED THEIR LOSS AND SHOCK FOR THE UNTIMELY DEMISE OF EBOU. EBOU WAS ONE OF US AT MUSIC HOUSE. WE CANNOT OVEREMPHASIZE THE GRIEF AND LOSS WE FEEL WITH THE WAGGEH AND SOSSEH FAMILIES. THE CHILDREN, PA ABDOU, OUR FAMOUS DAUGTHER NANCY NAZZ IN GERMANY AND THEIR BROTHERS AND SISTERS. EBOU'S DEMISE IS A HUGE LOSS FOR THE GAMBIA. WE AT MUSIC HOUSE WOULD REASSURE THE FAMILIES THAT WE WOULD CONTINUE TO PRAY FOR EBOU FOREVER, UR SUPPORT REMAINS STEADFAST.
AT MUSIC HOUSE THE LOSS OF EBOU WOULD FOREVER BE EKED IN OUR MEMORIES. WE ALL STARTED OUR FRIENDSHIP AND BROTHERHOOD OVER FIVE DECADES AGO AT INGRAM STREET AND MACDONALD STREET IN BANJUL. AGE WAS NEVER AN ISSUE. WE ALL GREW UP UNDER THE TUTELAGE OF OUR KOTOS OF BLESSED MEMORY, ERIC JANNEH, YUSU SAMBA, M.I. JALLOW AND MAYOR LAI BAH. OTHERS, LIKE HALLA SAMBA, EBOU FAYE (LIMBA), MASS AXI GAI, M S NJIE (DOR), EBOU FAAL (JABMAN), GASSA AND CASSY JANNEH TO NAME A FEW. EBOU WAS ALWAYS AT THE HEART OF ALL DISCUSSIONS TRYING TO ASSERTAIN THAT THE DISCUSSIONS ARE BASED ON FACTS AS A GOOD JOURNALIST WOULD. EBOU WAS ALWAYS CHALLENGING IN A VERY RESPECTABLE AND CLASSY MANNER. HE WOULD ALWAYS TRY TO DIRECT THE DISCUSSIONS IN AN INTELLECTUAL MANNER. WE WOULD SPEND MOST OF THE DAYS HAVING FUN IN PEACE AND HARMONY.
EBOU IS A FLOWER THAT HAS BEEN PLUCKED OUT OF THE MUSIC HOUSE FAMILY. AS PAINFUL AS IT IS, WE EXPRESS THANKS AND GRATITUDE TO ALLAH FOR BLESSING US WITH THE LIFE OF EBOU AND THE EVERLASTING MEMORIES WE WOULD CHERISH OF THE LIFE HE SHARED WITH US. WE PRAY THAT ALLAH FORGIVE HIM HIS SHORTCOMINGS AND GRANT HIM THE HIGHEST OF JANNATUL FIRDAOUS.
FIVE DECADES IS A LONG TIME. THAT IS THE PERIOD WE HAVE SPENT WITH EBOU IN A FRIENDSHIP UNFETTERED AND UN BLEMISHED. A FRIENDSHIP AND BROTHERHOOD THAT HAS STOOD THE TEST OF TIME. FROM MOHAMEDAN SCHOOL, CRAB ISLAND SCHOOL, SAINT AUGUSTINE'S, GAMBIA HIGH AND ARMITAGE HIGH SCHOOLS, EBOU DEVELOP RELATIONSHIPS AND FRIENDSHIP THAT HAS ENDURED THE TIME. ONE OF HIS CLOSEST BUDDIES, PAUL BASS WAS AT HIS FUNERAL AND UNFORTUNATELY FOLLOWED EBOU TO THE GRAVE LESS THAT A WEEK APART. PAUL AND EBOU HAD EMBARKED ON A PROJECT OF PORTRAYING OLD PICTURES OF BANJUL FROM YESTER YEARS. JOINTLY THEY HAVE BEEN RESEARCHING AND SEEKING OLD PICTURES OF THE LIFE OF BANJUL AND DISPLAYING THEM ON THE SOCIAL MEDIA PAGES. THEY WERE IN THE SAME BOYHOOD CLUB CALLED THE CLARK COMMANDOS.
EBOU WAS FOR EVER PRESENT AT THE FRIDAY LUNCH AT INGRAM STREET HOME TO FORMER PPP PRESIDENT, BANJUL MAYOR, STATE MINISTER AND MEMBER OF PARLIAMENT I B KELEFA SAMBA. HYDE PARK VOUS WAS THE NAME GIVEN TO THE PLACE AND WE WOULD HAVE HEATED DISCUSSIONS ON POLITICS, SPORTS, THE ECONOMY, WORLD AFFAIRS, YOU NAME IT …… LOTS OF TIMES DISCUSSIONS LEANING AGAINST THE RULING PPP GOVERNMENT. EBOU WAS ALWAYS IN THE HEART OF THE DISCUSSIONS. TRYING TO DRIVE FACTS AND JUSTIFICATIONS FROM PEOPLE IN A VERY RESPECTFUL AND HUMBLE MANNER.
HE SHOWED HUGE INTEREST IN WRITING AND IN HIS EARLY DAYS AT COOPERATIVES UNDER TUTELAGE OF MODOU DIBBA, HE AUTHORED AND EDITED THE COOPERATIVE NEWS BULLETIN. HE WAS A REPORTER FOR THE BBC NEWS OF THE AFRICAN WORLD AND EDITED THE FIRST NEWS MAGAZINE OF THE GAMBIA CHAMBER OF COMMERCE AND INDUSTRY. HE ALSO BROUGHT THE FIRST BUSINESS PROGRAMME TO GRTS PRESENTED BY THE GCCI CALLED GAMBIZ SHOW, SPONSORED BY STANDARD CHARTERED BANK. EBOU WAS VERY HUMBLE AND PROFESSIONAL IN ALL THE WORK HE DID. HE WAS A MEMBER OF MANY REGIONAL AND INTERNATIONAL ORGANISATION. HE HAS DONE SOME WORK IN GHANA AND NIGERIA AND HAD GOOD STANDING AND RESPECT FROM HIS COLLEAGUES FROM THE SUB-REGION.
EBOU HAS BEEN A PIONEER AND EMBLEM OF FILM MAKING, PHOTO-JOURNALISM AND JOURNALISM IN THE GAMBIA. IT IS RATHER UNFORTUNATE THAT WE DO NOT EPITOMISE OR CELEBRATE THE GREAT AMONG US IN THE GAMBIA. EBOU WAGGEH IS SOMEONE GAMBIA SHOULD CELEBRATE AND APPRECIATE. HE HAS BEEN AN ICON AND A BEACON IN THE FILM-MAKING JOURNALISM INDUSTRY IN THE GAMBIA. HE WAS ALWAYS EAGER TO SHARE HIS KNOWLEDGE AND EXPERIENCE WITH ANYONE INTERESTED IN HIS FIELD. HE WAS ALWAYS AVAILABLE AND ACCESSIBLE TO THE YOUNGR PEOPLE PLYING INTO HIS FIELD. HE WROTE SONGS AND PRODUCED SOME OF THE BEST DOCUMENTARIES ON GAMBIAN EBOU'S DAUGTHER IS A SINGER, NANCY NAZZ, BASED IN GERMANY.
EBOU HAD A LOT OF RESPECT FOR HIS ELDERS. HIS ELDER BROTHER OUSAINOU WAGGEH IS A MEMBER OF MUSIC HOUSE. EBOU ALWAYS COMPORTED HIMSELF AMONG THE GROUP WITH POISE AND DIGNITY. WE WILL SURELY MISS THAT WRY SMILE HE ALWAYS CARRIED IN ALL HIS INTERACTIONS. HE WAS AMONG THE YOUNGEST IN THE GROUP AND CARRIED A LOT OF RESPECT FROM THE GROUP.
THE QUESTION ASK HERE IS WHEN ARE WE AS GAMBIANS GOING TO START CELEBRATING THE BEST AMONG US? EBOU WAS A PIONEER AND ONE OF THE BEST JOURNALISTS, FILM-MAKERS, DOCUMENTARISTS, SONG WRITERS AND HUMAN BEING WE HAVE IN THE GAMBIA. YET STILL HE WAS NEVER CELEBRATED WHILE ALIVE. HE WAS EULOGISED AND CELEBRATED AFTER HIS DEATH. THIS NEEDS TO CHANGE. WE HAVE TO HAVE MECHANISM IN PLACE TO CELEBRATE THE BEST AMONG US WHILE THEY ARE LIVING. EBOU WAS ONE OF THE BEST AMONG US. WE CONTINUE TO PRAY FOR EBOU AND ALL THE DEPARTED SOULS. A TRUE HERO AND ICON HAS FALLEN. GAMBIA HAS LOSS A GREAT SON IN THE DEPART OF EBOU WAGGEH.
Read Other Articles In Opinion