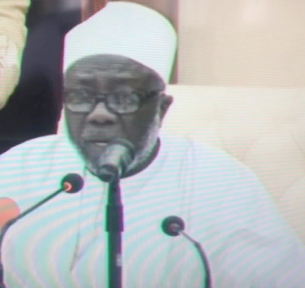 The demise last weekend of Alhaji Alieu Mboge has robbed The Gambia of a successful Public Administrator of four decades standing, and a ranking member of the Banjul Muslim Elders Council where he served dutifully as Secretary since 2016. Mr. Mboge's greatest success story as a public servant was during his tenure as Managing Director of the National Trading Corporation (NTC) from 1981 through to 1988.
The NTC was created in 1973 by The Gambia Government during the era of active state participation in the Gambian economy when more than a dozen state parastatals were created to provide essential services to the public. The establishment of NTC was particularly timely because soon after independence, many of the European firms like UAC, which imported essential commodities like rice, closed down operations fearing (wrongly) that The Gambia would do like other African countries and nationalize them. To offset shortages of essential goods, the Jawara government dipped its hands into the Farmers Fund to create the NTC, charged with provisioning our Republic with rice, sugar, meat, butter, flour and cement, building hardware etc.
Mr.Mboge was yanked from his administrative career at the Finance Ministry to serve as No.3 in the NTC, following on the Ghanaian expat pioneer Managing Director, and his assistant late Hatib Janneh. By 1981, the NTC was in pain and Government wanted to wind it down.
The Finance Minister at the time deferred winding down the corporation and changed the leadership. Mr. Mboge was appointed Managing Director. For five successive years, the once moribund corporation was not only making profit now after tax, but was once again paying dividends on profit to its shareholders, namely that Gambia Government, Social Security, GPMB and Co-operative Union. It opened branches in all corners of The Gambia.
In fact in 1985, the highly capable Minister of Finance, Hon. Sheriff Sisay was so happy with Mr. Mboge's leadership of the NTC that he called the NTC as a paragon of efficiency, and its boss as the 'boss of efficient management and accountability'. At a public ceremony on 18th September 1985, the Chairman of the NTC Board of Directors, Mal amin Janneh handed over checks worth more than D100,000(one hundred thousand dalasis) in 1985 money value, to its shareholders as dividends.
Indeed, a local newspaper editor described the NTC performance 'as unique among the many Government corporations'. The Finance Minister later told journalist in Banjul that 'the NTC is the only institution that is now making profit. All the others are bankrupt or near bankrupt.' He added that 'this performance by NTC is due to the discipline, honesty and management efficiency' of Mr. Mboge. For example, in 1986 he pioneered paying of yearly staff bonuses at NTC.
Later on however, Government was compelled to sell off the NTC during the Economic Recovery Programme scheme initiated by the Bretton Woods Institutions in the mid 1980s to salvage the Gambian economy.
Mr. Mboge and his generation of Jawara era senior public servants were efficient because they operated under a democratic dispensation which allowed them leeway to do their best under the circumstances. More, they were under close scrutiny of a vibrant and fearless press. The Banjul newspapers with their fearless editors like R.S Allen, Ngaing Thomas, M.B Jones, Mbacke Njie, Baboucarr Gaye and Nana Grey Johnson to name half a dozen, kept a vigilant eye on the public servants like him, scrutinizing them in good faith, all in the interest of the Republic.
Personally, Mr. Mboge was a good friend and confidante despite the huge age difference. At the last Banjul Gamo, he walked into my office to personally hand me an invitation. Whenever he needed archival material on Bathurst Muslim leaders, he would come and seek my help which I was always happy to give.
In late June, I assigned him to collect data for me on Bathurst women who made the Hajj by foot or lorry in the 1930s to the late 1950s for an academic paper I am working on. He agreed; and told me that after the Corona was gone, he will organize for me at the King Fahad Mosque, a focus group discussion where I can get all my information.
I will sorely miss a good man who spoke and wrote English well; who had great interest in Bathurst Muslim matters, who was never late for meetings and who served his country well as a public administrator.
To his family, I pay my condolences and pray that his soul rest in peace.
(Alhaji Alieu Mboge: Gambian Public Administrator, Entrepreneur, and Banjul Muslim Elder, born?- died 2 August 2020)
Read Other Articles In Opinion