School Heads
Mention M. Heddle, Father Gough, Mrs Auber, Pa Joof and memories will flood in on Armitage High School, Saint Augustine's High School, Crab Island Secondary Technical and Saint Augustine's Secondary School, respectively. It is said that the head makes the school or the school makes the head. M. Heddle could well be remembered because of Armitage High despite those very difficult moments in the late 70s. Father Gough's obsession for sports raised Saint Augustine's high on the top of the list of best schools in football, basket and volley in the seventies and the eighties. Mrs Auber cannot be forgotten as the Iron lady of Crab Island, and when one mentions Pa Joof, one remembers the school that still carries his name, Pa Joof School.
In the past, school heads have played a vital role in assisting needy students. They are still doing so. I would gladly take this opportunity to express my gratitude to the late Abdoulie Ceesay's family for Mr Abdoulie Ceesay, when he was principal at Armitage High School, personally arranged a scholarship for me for payment of my school fees in 1983. Musa Jallow, the author of Across the Scenes, did not forget such favours. Samba, the hero of this novel, will successfully pass his common entrance exams and would need to leave the village for Serrekunda for higher education. There will, however, be two obstacles to this project. Babou Fye, Samba's father, would claim that there are no sufficient funds to pay Samba's fees and will also raise the problem of accommodation for Samba in Serrekunda.
Madibo Jawo is Samba's headmaster and that of Bensala Primary School. All the surrounding villages send their children to Bensala Primary School. Master Jawo has enormous experience with students. He is very helpful to the pupils both in school and outside school. So for an intelligent boy like Samba to be refused further education is unfathomable by Master Jawo. The narrator will point out on page 4.
Samba had been vice-captain for the school soccer team and was also among the best sprinters. He also stopped the result list of many class tests, and above all when the final exam come for entry to high school, he came out third from forty-three candidates and one of the fifteen who passed. So the headmaster was disheartened to get news that the boy would cut short his school career owing the financial difficulties.
Master Jawo will take the pain to go to Jeriba, Samba's village, to meet his father and try to convince him. Babou Fye says he has no objection to Samba's going to Serrekunda to pursue his secondary education; however, he has nothing to pay for his school fees and has no relative in Serrekunda where Samba could be accommodated.
One thing about these villagers continues to amaze Master Jawo. Despite the uncountable heads of cattle they owe, never would they ever think of selling, not even one, to solve some of their financial difficulties. Babou Fye is one of the area's richest cattle owners, yet he will claim to be poor. Musa Jallow, the author, intends to show us how people can either be blind to the riches in their possession or simply be misers.
Master Jawo, not discouraged, will arrange with the Youth Relations Office to procure a scholarship for Samba and plead to his brother to accommodate Samba. Samba will successfully obtain a scholarship and accommodation.
Master Jawo is a shining example of many other school heads like him.
In different circumstances, old students visiting their Alma Mata are generally warmly welcomed by their old school heads or the new ones who have known them in their school days. Such a warm welcome is what we encounter in the Second Round by Dr Lenrie Peters. Dr Kawa, who finished his secondary education at the Aggrey Boys High School, returned after many years abroad to conduct medical exams for the students preparing for sports. M. Hamilton, the present school head, will warmly welcome him with great emotion.
He seemed suddenly to have shed his cloak of age and was radiant with vitality. His pendant lips were rescued in a smile, and his brown eyes moistened. He seemed unable to speak for an embarrassing moment while he held the other's hand in his hand and looked him over as a craftsman would examine a piece of work well done, or a fetter, a repentant prodigal. When he spoke again, his voice was a whine of affection.
Well, Dr Kawa, we have watched your career with interest, and I am proud of your achievements and so is the school.
The pride in seeing Dr Kawa visit the school is based on his success. Dr Kawa will remember those days when M. Hamilton was a teacher and how much Dr Kawa and his friends have given him tough life. Both students and teachers will heal the past wounds once the student is successful and each sees the other with different eyes. In Patience is Accompanied by Smile by Ebou Gaye, Sulayman Jobe will attest to this. School heads and their staff are humans. Their role is to indicate knowledge
To their students, and in some complicated circumstances, this is done with a heavy hand.
School life
School life is very interesting, and most Gambian writers have attested to this. Sally Singhateh, Gabriel J. Roberts, Musa Jallow, Essa Colley, Ebou Gaye and Ebou Dibba have made vivid descriptions of school life and student life in Christie's Crises, The Goosieganderan Myth, Across the Scenes, If I am Right or Wrong, Patience is Accompanied by Smile and Alhagi, respectively.
School life and student life involves encounters, peer influence, misfortunes and many other forms of misadventure. Students from rural areas are subjected to hard treatment from students from urban areas. In Across the Scenes by Musa Jallow, Samba will finally arrive at Serrekunda to pursue his secondary education. He would be called many nicknames, "King Jeriba", Jeriba being the village he comes from. City life will look fast and mostly strange for Samba. The magnetic attraction of the city will make him forget his studies, and the trend of city life will transport him. He will make many discoveries among girls, tobacco, and drugs. On one of his first outings, during one of the school picnics, he will start smoking cigarettes:
"It was a packet of cigarettes tossed to him by Gibou the boy sitting left of Assan. It took him a moment to pick it up. Then he hesitated further, but went on to tear it open. He was no smoker; he had never before done it. But now he thought he had to get rid of any traces of "Jondoism" that the others might realise, or expect to be passed of him (…). Besides, he would not be the odd one out when the other three boys were busy puffing, polluting the atmosphere. So he pushed out one, and right between his lips it went".
Samba starts smoking due to peer pressure. He never smoked before, which will lead to activities he could have avoided. He will start going out dancing, smoking marijuana, and being at par with the social standards found among the city boys; he will resort to stealing. Musa Jallow made sure that not only Samba's misfortunes will serve as a lesson to the young readers, but other unfortunate experiences encountered by other students, especially female students. Most girls are easily entrapped into early sex even before knowing what consequences it may lead to. They feel too vulnerable to the advances made by the boys. However,
"It was not until then that they began to think constructively of the possible consequences such an engagement could bring forth: unwanted pregnancy, expulsion from the school and the rest of it".
The rest of it could mean being sent away from home, struggling to feed the child, looking for a job to sustain oneself, which adds up to the burden of psychologically admitting having lost one's education. Musa Jallow, however, doesn't stop at only exposing this social, moral perdition; he equally throws few words of advice. He first gives a story of Jay, who becomes a mother after being fooled into believing that her life was much better with the "sugar daddy with the dangling keys" courting her. She gets carried away by the luxurious life offered by the Lebanese and suddenly finds herself pregnant. She will find herself expelled from school, and worst, she will raise her child alone after the Lebanese categorically refused to recognise the child as his own. Leaving school prematurely and not being able to find a proper job anywhere, Jay turns to prostitution. Everything here shows how much school life could be difficult.
Campus life
A school campus is defined as a place where students are accommodated as they go to school. It could include teachers' quarters as well, where it is a bigger school or a university.
As the Gambia had only one boarding school, Armitage High School, most writers did not mention campus life, probably because they never attended one. Bala Saho and Musa Jallow, though ex-students of Armitage High School, did not deem it necessary to mention campus life in their work as this had no specific link to their stories. Two Gambian authors mentioned campus life in-depth, and they are Gabriel J. Roberts and Essa Colley.
Gabriel J. Roberts: The trial of Busumbala
The Trial of Busumbala is a short drama written and published in 1971 and was originally written for radio presentation. It vividly describes campus life.
The Principal of Armitage High School is called Mr Maxwell Armitage, and he lives in the teacher's quarters. He is accused of habitually increasing the volume of his radio very loudly even when he is not at home, thus causing great disturbance to all the other staff members. Samba, one of the teachers, will testify against the principal and says:
"Because I couldn't read or meditate in my own house, which is right opposite the principal's and the noise from his radio was on that particular night far too disturbing to concentrate in."
As the teachers live in the same quarters and are not happy with Mr Armitage's behaviour, they decide to steal his radio. Busumbala will be the one who will steal the radio, and in court, he will strongly claim that the theft was legal because it brought peace to the staff quarters. He will eventually be released.
Mr Roberts wrote a second book entitled The Goosieganderan Myth, where Vantage High School in Bambootown is mentioned. We believe Vantage High School to be none other than Armitage High School. Our next edition will talk about campus life as depicted in the Goosieganderan Myth by Gabriel J. Roberts and If I Am Right Or Wrong by Essa Colley. Essa Colley will describe campus life in Makeni Boys' High School.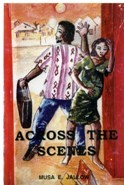 Read Other Articles In Opinion