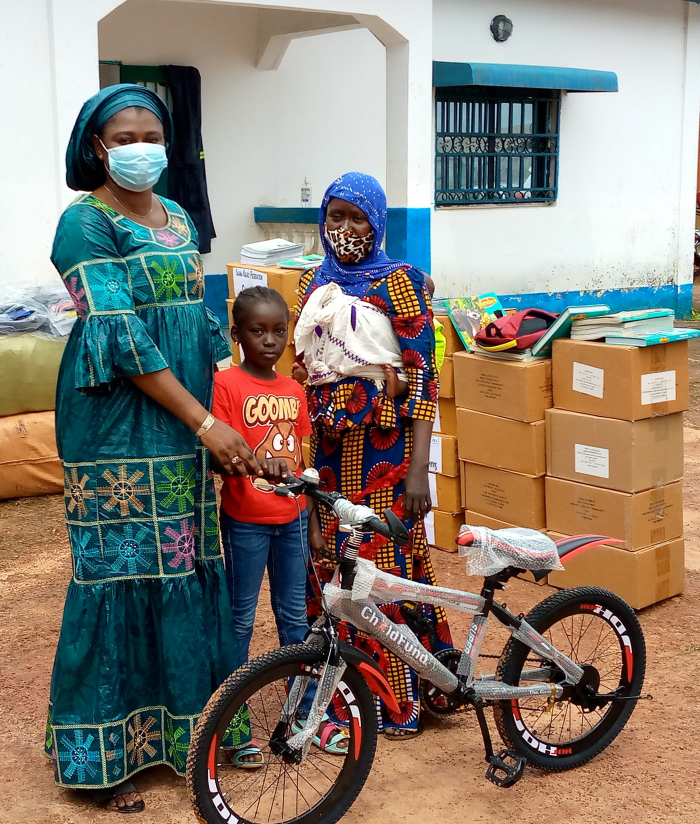 The support ranges from the distribution of 2,250 school bags and 50,000 exercise books, 2,200 sanitary materials to 275 dream bikes, all worth 4,570,000.00 (Four Million five hundred and seventy thousand dalasis).
As school reopens after months of closure due to coronavirus pandemic, the Saama Kairo Federation deems it necessary to support students in attending classes regularly. The donated items, which include donated exercise books, bags, bicycles and sanitary materials is expected to boost quality education within the two districts.
Saama Kairo Federation manager, Sunkary Jatta said that the gesture is designed to respond to the negative impact of covid-19 on vulnerable families.
According to him, 2,200 text books would be handed over to the regional education directorate for onward distribution to schools within the federation operation areas with a view to equipping existing school libraries for enhanced performance in schools.
ChildFund The Gambia country director, Musukuta Komma said ChildFund's vision is to put a smile on the faces of children in need.
Komma recalled that over the years, the federation bankrolled numerous development programs including education, child protection, sexual and reproductive health, youth empowerment, covid-19 response and a host of other initiatives.
Deputising for the regional governor, Fabakary Sanneh commended Saama Kairo Federation for complementing government's efforts through the provision of learning materials.
He also urged the beneficiary students to take great care of the donated materials.
The board chairman Tijan Jarju commended the federation for their timely intervention, noting that the initiative will not only ensure access to essential school supplies for thousands of children in need, but will also complement government efforts in encouraging enrolment of children in schools.
On behalf of the beneficiary children, Kadija Bangura commended Saama Kairo Federation for the support, while promising that the donated learning materials will be properly utilised.
Read Other Articles In National News