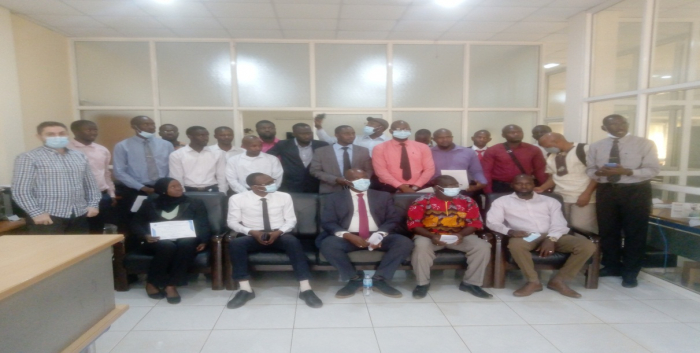 The training involved key stakeholders to form a well-trained team of collaborating experts across security, law enforcement, government, ISPs, banks, academia and the ICT industry in The Gambia.
In a ceremony held at the PURA head office Kairaba Avenue, the director of Consumer Affairs Mr. Solo Sima delivered a statement on behalf of his director general, Momodou Jallow, saying he likes engaging his staff and management in the realisation of the rolling out and implementing the national Computer Security and Incident Response Team (CSIRT).
He added that it was deemed one of the urgent and critical needs of the Information Communication Technology (ICT) ecosystem, encompassing one of the key sectors that PURA regulates.
"My engagement with PURA management in collaboration with Ministry of Information and Communication Infrastructure enabled me to observe first-hand and the hard work dedication of a committed team towards realising a one term dream as one of the countries in Africa taking huge strides towards securing our digital space."
He thanked the World Bank, participants, organisers, consultant, and gmCSIRT staff for showcasing a very successful training.
"We are sure that implementing some of the skills learned and applied positively will immediately yield positive impact in your various institutions."
Mr. Amadou Bah, the training consultant also stated that cyber security is the order of the day and it's important in our national development.
"Cyber security is a collective responsibility and team work is key. The highly critical national infrastructure institutions should be well protected."
Mr. Nicolas Jatta, the director of ICT also renewed his appreciation to the World Bank and the training consultant for their great stance in the making the training a success. He said with the rise in cyber-attacks, it's high time to organise such capacity building trainings.
Delivering the opening remark, the director of Gambia International Police (Interpol), Ba Kebba Suso thanked the sponsors and the facilitators for the great opportunity in helping them gain and exchange knowledge during the days of training. He added that the speed in internet has brought criminal engagements like terrorism, sexual exploitation of children and more.
Read Other Articles In National News