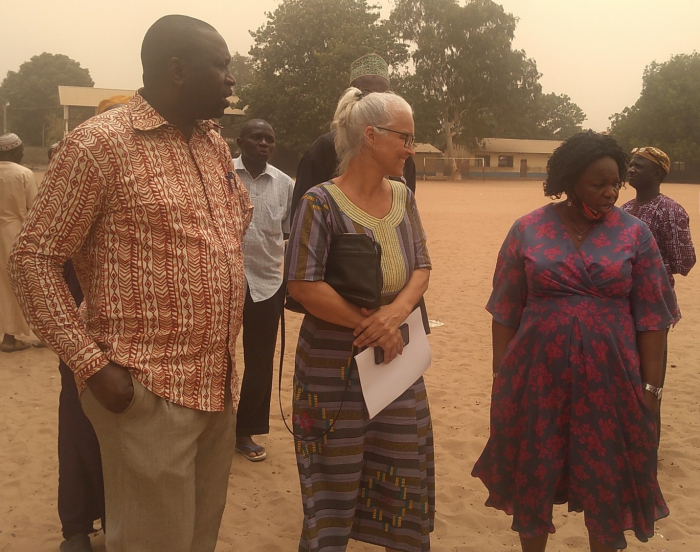 The visiting team was led by Minister Claudiana A. Cole, permanent secretary, Louis Moses Mendy and deputy permanent secretary, Jerre Sanyang and other senior officials within the sector.
MoBSE Minister Claudiana A. Cole explained the rationale behind the visit, saying it's to monitor and prepare the grounds for the reopening of Grade 9 classes which is slated for Wednesday and subsequent reopening of all schools throughout the country.
According to Minister Cole, the ongoing post Covid-19 renovation and construction of classroom blocks is being undertaken by MRC-Holland Foundation.
The purpose of the renovation and construction of classroom blocks by MRC-Holland Foundation, Minister Cole explained, is to assess the state of the preparedness for the resumption of schools especially grade 9 classes. Thus the visit also gave the opportunity for sector officials to see for themselves the ongoing renovation and construction project sites.
The development came barely three months after the closure of all schools as a result of the Covid-19 pandemic global outbreak.
Minister Cole during the visit discussed with the school authorities the sitting arrangement for grade 9 students and advised each classroom needs to accommodate 25 students amidst covid-19 pandemic.
The project manager, MRC-Holland Foundation, the Gambia office, Henriette Braumer-Sonko, said her foundation was undertaking the exercise due to Covid-19 pandemic.
"I deemed it necessary to quickly intervene by renovating 35 schools before the reopening of all schools and the amount for the renovation exercise is pegged at D40 million from Lower Basic to Senior Secondary schools within the six educational regions in the country.
Minister Cole and team visited Tanjeh and Batokunku Lower Basic schools, Sanyang Lower and Upper Basic schools, Gunjur Lower Basic School, Bottrop Senior Secondary and Upper Basic schools, Busumbala-Farato Lower Basic School, Busumbala Lower Basic School, Sinchu Baliya Lower Basic School, Latri-kunda Upper and Lower Basic Schools.
By Lamin B. Darboe
Information Officer, MoBSE
Read Other Articles In National News