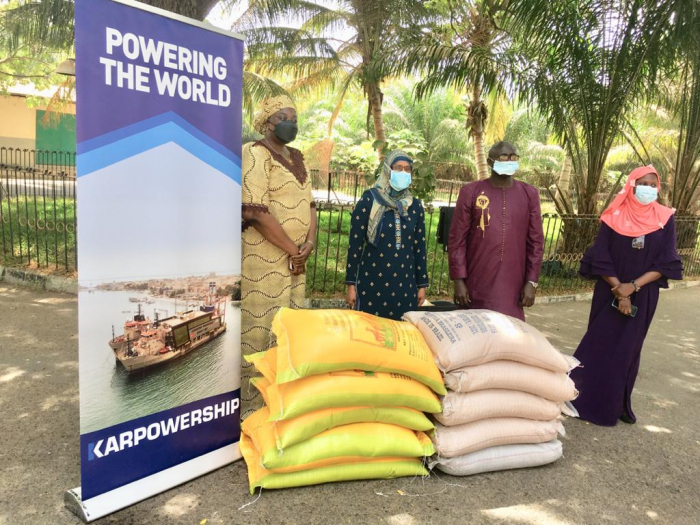 The foodstuff came in the form of 40 bags of rice and 40 bags of sugar and were handed over to the foundation at a ceremony held at State House.
"On my behalf, on behalf of the board of directors and Her Excellency, my staff, I want to assure you that this donation will get to the most in need in our communities. We will make sure that we get it to the most in need people. We appreciate your support, your help," Fatou Ceesay, vice president of the foundation said at the event.
"You're new in the country but everywhere, you are always contributing. The Gambian people appreciate this and your board and management should know that you're highly appreciated for what you are doing for our community," she added.
Karpowership country manager, Yankuba Mamburay, speaking at the event revealed it was the third "we have had some collaboration, working together".
"As we know, Karpowership came into the country officially starting 2 May 2018 for a two-year contract to provide up to 30 megawatts of electricity in the country and our contract has just ended on the 1st of May 2020 and we have just embarked on a new contract which started on the 2nd of May 2020," Mr. Mamburay said.
The Karpowership top official added: "Karpowership is highly on demand around the globe because of our unique, modern and sophisticated approach to producing electricity around the globe. We are unique because there is none like us.
"We are the only company that can provide electricity through what we call, 'floating power plant'. And because of that, we have state-of-the-earth and also quick fix solution to electricity. So that's why we're highly on demand.
"Since when we came into the country, we have done a lot of things supporting and also intervening in the areas of health, in the areas of education, fisheries, environment, helping the needy etc. We have been doing all that aside from providing low-cost, uninterrupted electricity in the country."
Read Other Articles In National News