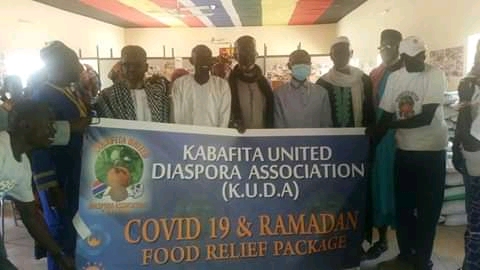 Presiding over the ceremony, National Assembly Member for Brikama North, Alhagie S. Darbo described the gesture as worthy and laudable, saying supporting people during the difficult moment of Covid-19 is indeed.
He said the donation which is part of food relief package for Covid-19 is essential, noting that everyone should have the wish to support their communities.
Speaking on the pandemic, NAM Darboe said it is a global issue as it has been claiming lives on a daily basis, calling on the people of his constituency to always follow the preventative measures against the pandemic.
He also donated of D2000 to the Association through the VDC on behalf of the Brikama North Management Committee to support the initiative.
Governor of West Coast Region, Alhagie Lamin Sanneh told the gathering that the initiative is not only for Kabafita but for the entire Region and by extension, the nation at large. He further cautioned the community to work in close contact with both KUDA and the VDC to enable them to bring more of such gestures, emphasizing that without unity; no sustainable development can be achieved.
Alieu K Darboe, Ward Councilor of Kembujeh lauded the donors for their foresight, commitment and dedication towards supporting their people. He called on the VDC, KUDA, and the people of Kabafita to work in partnership and to continue nurturing the already existing cordial relationship among them.
Faye Kujabbi, chairman of KUDA Kabafita Chapter commended KUDA for their great humanitarian support, highlighting that it will be put for the purpose without any delay.
Alhagie Tombong Jawara, Alkalo of Kabafita also describe the event as historic, saying such has never taken place in the community.
Speaking on behalf of the VDC, Fabakary Doebal Taal called on the beneficiaries to continue praying for the youth in order for them to continue providing such assistance to the people.
Read Other Articles In National News