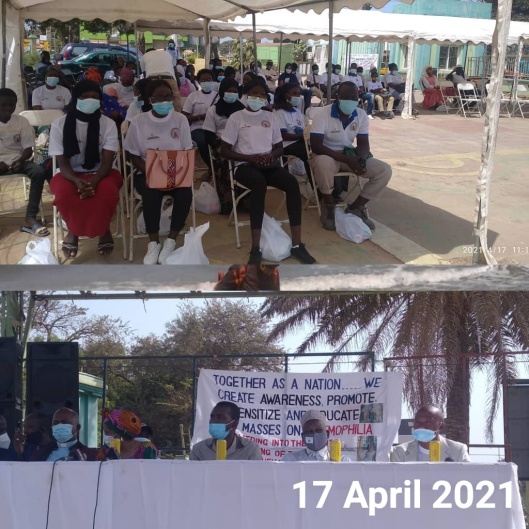 World Hemophilia Day is held annually on April 17 by the World Federation of Hemophilia (WFH). The day aims at bringing awareness to Hemophilia and other bleeding disorders.
This year's global theme was 'Adapting to Change, sustaining care in a new world.'
Globally, one in every five thousand male is affected by Hemophilia. Although females can be affected by the disorder, it is very uncommon that females get affected.
Dr Salifu Gaye, a Lab Scientist at Edward Francis Teaching Hospital said Hemophilia is usually an inherited bleeding disorder in which the blood does not clot properly and can lead to spontaneous bleeding as well as bleeding following injuries or surgery.
"Blood contains many proteins called clotting factors that can help to stop bleeding. People with Hemophilia have low levels of either factor 8 or factor 9," he stated.
Dr Gaye added that the severity of Hemophilia that a person has, is determined by the amount of factor in the blood. The lower the amount of the factor, he said, the more likely it is that bleeding will occur which can lead to serious health problems.
He said that there is no cure for Hemophilia in the world, but it is treatable to minimise its impact on patients.
According to reports on the Hemophilia disorder, it is very rare for a person to develop Hemophilia later in life. Majority of cases involve middle-aged or elderly people, or young women who have recently given birth or are in the later stages of pregnancy.
Vandy Jayah, founder of Safe Motherhood and Hemophilia Foundation, The Gambia said, the foundation was registered in 2019 with a motive to saving lives in The Gambia.
He added that currently 27 African countries are members of World Federation of Hemophilia. Although The Gambia is yet to be part of the Federation, he said, Safe Motherhood and Hemophilia Foundation in The Gambia, would soon be members of the federation.
"We believe that every person with an inherited bleeding disorder deserves access to care and treatment. Our vision of 'Treatment for All' is that one day, all people with a bleeding disorder will have proper care, no matter where they live," Mr. Vandy said.
Since 1989, World Hemophilia Day is the day the whole bleeding disorders community comes together to celebrate the continuous advances in treatment while raising awareness and bringing understanding and attention to the issues related to proper care to the public.
For over 50 years, the World Federation of Hemophilia (WFH), an international non-profit organisation, has provided global leadership to improve and sustain care for people with inherited bleeding disorders, including Hemophilia, Von Will brand disease, rare factor deficiencies, and inherited platelet disorders, Mr Jayah said.
Read Other Articles In National News